When developing a fashion and beauty photography portfolio, we often find ourselves diving headfirst into liminal space and swimming into unfamiliar water. Whether it is the first few DIY test shoots or a project further into our career, chances are there will be several photoshoots sans a fashion stylist in the foreseeable future.
While having a stylist is always preferable, there are some clothing credits that are easily accessible and photograph incredibly well. I often choose simple black and white or other neutral items because the majority of my work is monochromatic, not to mention they are classic in aesthetic. Below are a few basic items that are easy to come by and never seem to go out of style.
A post shared by Brittany Smith (@brittanysmithphoto) on
Bodysuit
Never underestimate the power of a simple bodysuit – it is one of the most versatile garments out there. The fit should be flattering and accentuate the frame. A good bodysuit can be a statement piece on its own or paired with most everything else.
Basic Black or White Top
There is something classic about black and white that is always on trend yet never goes out of style. From camisoles and tube tops to mock turtlenecks and long-sleeved crop tops, the possibilities are seemingly endless. Choose fabrics such as lace, satin, velvet or linen that are complementary to the rest of the wardrobe.
Timeless Jacket
Trench coats, pea coats and wool jackets with a classic cut are all great pieces for consideration. The jackets can be the main focus of the outfit, draped over the shoulders or paired with other clothing items. A timeless jacket fits the bill for three out of the four seasons and goes with almost anything.
Fur & Leather
A vintage fur coat or a mod bomber jacket are key go-to pieces. Not only does their texture add an element of visual interest, but they are essential layering pieces and are adaptable to enhance the mood of the shoot. A lot of the classic 1930's coats and shawls are being passed down to the newer generation and are available in most vintage stores, meanwhile animal friendly options are gaining in popularity and the vegan offerings look every bit the part as their authentic counterparts.
A good pair of denim
Is there anything better than a good pair of jeans? Denim is a staple for many photoshoots with minimalist styling and for good reason – they go with damn near everything. Even though fashion has taken a turn and opted for the more clothing the better route, there will always be a place for images of a model clad only in a pair of jeans.
These boots were made for walkin'….
The final clothing items to consider for the ensemble is a great pair of heels or boots. A simple nude or black pair of high heels are a great accent to jeans and flowy dresses while boots tend to better accessorize outfits where there is a little more leg showing. When in doubt, make sure that the footwear makes sense for the overall image.
Accessorize
Accessories are often overlooked and are one of the most important items for a stylized shoot. Statement necklaces, stacked bracelets and rings are great examples of jewelry that add that finishing touch to the ensemble. Other accessories are hats, sunglasses and scarves. Be cognizant of whether or not the overall accents nhance or detract from the overall feel when accessorizing.
Styling a shoot with a basic wardrobe is an important skill to acquire and most of these key pieces can be suggested for other areas of portraiture. Learning to see the clothes, how they move and how to light them further enhances a portfolio. Study the fashion magazines and see how they pull everything together and read up on the current trends that are captured in a timeless manner. As the eye is trained to see textures, patterns and colors that come together more easily it makes it becomes more manageable to plan intricately styled shoots the result is inevitably more creativity.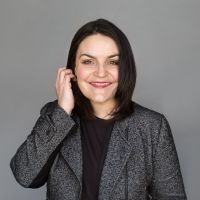 Brittany Smith
Brittany is a fashion and beauty photographer who works between NYC, Montana and LA. She photographs the way she has always wanted to feel and believes in the power of raw simplicity. When not behind a camera she can usually be found at a local coffeeshop, teaching fitness classes at the YMCA, or baking something fabulous in the kitchen. Instagram: @brittanysmithphoto