Not a day seems to go by without yet another 'personal journey' story of 'Why I switched to Fuji' being published. Admittedly, I read them all because I'm on the fence about the switch myself. That said however, I'm only on the fence about eradicating any other system from my arsenal, which to me, seems unnecessary. Different systems do different things better than others. And worse. So it would seem prudent to add to, rather than take from.
One of the things Fuji systems haven't really been competitive with has been their flash systems, particularly TTL flashes. Now, I'm no stranger to manual flash control, and frankly, I like it better, but the prospective buyers line is teeming with individuals who either aren't adept at it, or understandably want TTL for speed and ease of use. Well that camp has something to smile about today as Nissin has created a compact, yet powerful flash that does speak TTL with Fuji cameras.
The i40 is considerably smaller than other flashes, making it a great companion for those of a mirrorless persuasion who like to travel light. Though small in form factor, it is not starved for features. It has two manual dials on the rear that are so simple and clean, it would appear to be very effective and require no learning curve at all, unlike flashes from Nikon and Canon that carry manuals that rival War & Peace. It also has a surprisingly powerful guide number of 131, a head that swivels in all the right ways, and an LED video light with an adjustable 9 steps of output.
It's still not perfect, and some great abilities it features for use with Canon, Nikon and Sony, like 1/8000 shutter speed support, aren't available for Fuji users. But, it's a step in the right direction, and even without all of its capabilities available to Fuji users, it is a really attractive flash option. The power it provides is certainly going to be adequate for use in bright daylight, and the size is half that almost of even typical Nissin flashes.
Retailing for $269, you can pre-order the i40 now from B&H.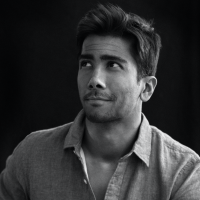 Kishore Sawh
A photographer and writer based in Miami, he can often be found at dog parks, and airports in London and Toronto. He is also a tremendous fan of flossing and the happiest guy around when the company's good.