In most instances, it's sort of hard to measure a camera's popularity. When a camera is announced, before its release date, it hits the news pages and our internal systems like a hit of dopamine, then again there's another surge when the product reaches shelves. That tends to last as long as the gap before some new kit is announced, and only in a few instances does the excitement and desire not wane. The Sony A7 comes to mind because it was ground breaking and people still excite over it. For DSLRs, it's hard to say that last year belonged to any other than the Nikon D750.
I spent a good amount of time with it in two different cities last year, and if I had to say anything bad about it, really, I'd be making something up. (See our full review here). I went so far as to say I believe, and still do, that it has made the D810 and D4s niche cameras. Within the D750, Nikon tried to build a capable video camera, and while many of a Canon persuasion may say it's not quite as good, there's a legion out there who beg to differ. Nikon believes in it so much they're about to release a special Filmmaker's D750 Kit to complement the video recording asset that is the D750.
The kit is essentially comprised of two focused areas: the optical and audio. The optical includes the camera, 3 Prime AF-S lenses, and some variable ND filters, while the audio includes a stereo mic, an HDMI cable, and an Atomos Ninja 2 Video Recorder.
Nikon D750 (Body)
Nikkor 35mm f/1.8G AF-S ED
Nikkor 50mm f/1.8G AF-S
Nikkor 85mm f/1.8G AF-S
58mm Variable ND filter
67mm Variable ND filter
2x EN-EL15Lithium-Ion Battery
ME-1 Stereo Mic
HD-E1 HDMI Cable
Atomos Ninja 2 Video Recorder
As you can see, you're getting Nikon's primary stable of fast primes giving you a broad enough range of wide, normal, and shorter telephoto length perspectives. While they're not actual cine-lenses, they are all brilliant primes and all have silent motors for uninterrupted audio, and smooth control rings.
Adding to that, the ME-1 mic that fits onto the hotshoe of the camera will up your audio recording significantly, and the Atomos Ninja 2, though not quite so new anymore, is tried and tested and generally all round brilliant. It'll break you free of the 29 minute recording limit on the camera, and more importantly, will free you to shoot straight RAW out of the camera – on the D750 that's a thing of joy. And all of this neatly packaged in a special grey, foam-lined box from Nikon.
So what's the price? Less than you'd expect at $3,997, which is a good $800 less than if each part was bought separately, and it can all be yours if you pre-order now. It's on track to ship late this month, which is really just around the corner. You can get yours here.
Source: Nikon Rumors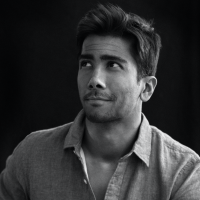 Kishore Sawh
A photographer and writer based in Miami, he can often be found at dog parks, and airports in London and Toronto. He is also a tremendous fan of flossing and the happiest guy around when the company's good.