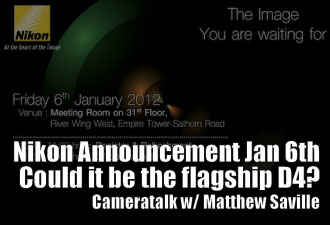 Nikon has a press conference on January 6th!There is no official word at this point concerning what will be announced, but considering things like upcoming trade shows and the fact that 2012 is a summer Olympics year, everything is pointing to Nikon's next flagship, the D4.
According to Nikon Rumors the D4 will be a relatively standard upgrade to Nikon's current D3 / D3s, with more megapixels, (16 MP) more ISO, (12800 native) …and more FPS. (11)Oh, and 1080p video.This is about the same as Canon's already announced (though not ye available) 1DX, so even without rumors these specs would be pretty easy to guess…
As we previously discussed,the only special surprise about the current rumors is the use of a new memory card format, XQD, in addition to compact flash.
At this point, it's just a waiting game!Will Nikon announce this camera in three days, or will it be something else more boring?(They have a history of announcing new Coolpix models at this time of year, too.)…Or, more importantly, will the camera have some crippling bug or image artifact?We all hope not!We'll know soon enough.For those of you here with us on the USA Pacific coast, set your clocks for Thursday afternoon / evening, and check back here for the official announcement details!
Take care,
=Matt=
Oh, and happy holidays everyone!
(EDIT) – Wednesday Jan. 4th – Apparently an "official" leak has occurred, and we have a few "absolutely certain" figures for you:
The D4 will be:
* $6000
*16 MP
*ISO 100-102,400 native (yes, that's FIVE stops above ISO 3200!)
* H264 B video compression (whatever the heck that is) at 1080p
* "Smooth aperture control during recording" (again, whatever the heck that is!)
* Available as early as February!
ALSO, the 85 f/1.8 is "known" to be $500.NICE!
Hopefully all this "official" information is true!Compared to the $6800 Canon 1Dx, I'd say it's going to be a pretty much neck-and-neck year for the two major flagship DSLR makers!
=Matt=
(/EDIT)
Nikon D700, Tamron 90mm f/2.5 manual focus macro, f/2.5, tripod, flash