It is the moment of truth. According to the latest rumors, the latest version of Nikon's mirrorless offering, the Nikon 1 V3 is expected to be announced next week along with a couple of new lenses and maybe even a new light.
We have brought up Nikon's 1 mirrorless system several times over the last week or two. First, it was some design patents and then, a recent rumor regarding its development. In all of these cases, the most common criticism of the 1 system wasn't image quality or even the style of the camera – but of sensor size. It will be interesting to see if this new 1 V3 will address this complaint at all.
Nikon 1 V3 Rumored Specs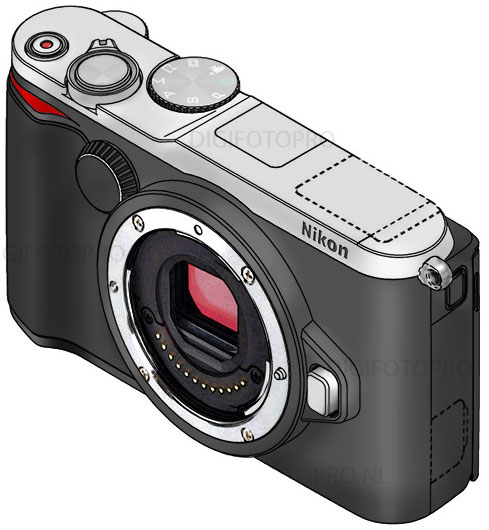 You can read up on the latest rumored specs for the Nikon 1 V3 below.
*Courtesy of Nikon Rumors*
No optical viewfinder
Optional, external 2.4MP electronic viewfinder (EVF) that will attach to the hot shoe
Built-in flash
Standard hot shoe – you will be able to use regular Nikon Speedlights and the built-in flash could act as a wireless commander
Several new interesting video features (sorry)
New external grip will not take any batteries, but it will have a shutter button and front dial
Expeed 4a imaging processor
Completely new camera design similar to the drawings of this recently filed patent and it will be all black (not sure if they will offer different colors)
Very fast everything
18MP sensor
Eye sensor and a button to switch between LCD and EVF
180° swivel LCD screen
In addition to the above specs, the Nikon 1 is expected to be released with the following lenses: a new 10-30mm f/3.5-5.6 PD VR and a new 70-300mm f/4.5-5.6 VR zoom. Also expect to be announced is a new light, quite possibly one of those prototype LED lights from a while back.
The announcement is expected to come around March 12th or 13th. So, we should know pretty quickly if this new Nikon 1 is something to consider in the mirrorless world or if it's just more of the same. Notice there is no sensor details rumored up there, it could be possible that Nikon updates the sensor size, but I think a big change like that would probably have leaked by now… but we shall see.
What are your thoughts on this Nikon 1 V3? Do you think Nikon will finally get mirrorless right or will it just be more of the same in a different body? Share your thoughts below to join the discussion.