This cautionary tale is also the most inspiring thing I've stumbled upon all week, shared to uplift and – if necessary – provide a kick in the pants reminder to protect yourself.
Last Sunday, 20-year-old Pacific Northwest-based photographer Conner Allen lived out a photographer's nightmare: after leaving his Nikon D600 and other gear stowed in a friend's car unattended for a mere 20 minutes, he returned to find the windows smashed and all the tools of his livelihood stolen. With the camera not yet paid off, and purchasing insurance coverage still on his to-do list, Conner was, in his own words, "dead in the water."
CONNER: I didn't know what I was going to do, I had no money in savings, I'd just paid my business taxes and wasn't getting anything back… I posted on Facebook just a very solemn 'If you see anyone with a Nikon D600 please hunt them down' sort of post, because I just didn't know what I was going to do. I had five weddings signed, including one in San Francisco in two weeks, and all these other jobs coming up… and I literally had no way to get back the camera that I had put my heart and soul into acquiring in the first place.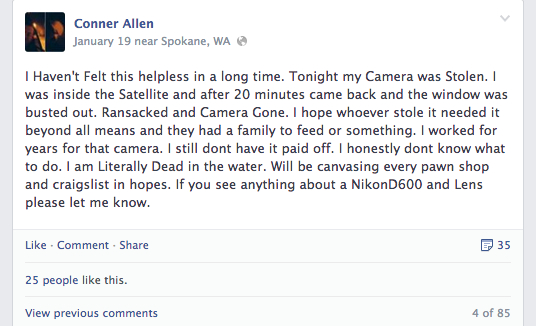 Now, this is where Conner's story takes a turn. Social media, connection to a community, and having a reputation as a humble, giving, and talented young photographer led to such an outpouring of support, that Conner's troubles would end up being incredibly short lived.
CONNER: I had an outpouring of people willing to send me their backup cameras and lenses and gear within hours of the theft. Everyone was so sweet. Tuesday morning I started a GoFundMe, since I didn't know what to do… I didn't make it public until 3:00pm because I felt awkward in the sense that I didn't think it was going to work. 
CONNER: Then at 5:30, my doorbell rang. It was UPS. I was expecting a filter I'd bought off of Amazon.com for like $3.00. So I was like, 'Oh yay, it's finally here… too bad I don't have a camera.' They asked me to sign for it, and it was this giant package, and I just wasn't even thinking. So, I signed for it and opened the package and there is this letter on top… and I just immediately started crying.
Like most of the notes, messages, tweets, shares, and calls of support Conner had received over the last few days, this letter was also from a friend and fellow photographer Conner had made an impression on: Shana Rae Rosengarten of Florabella Collection. Conner had been following her work admiringly for a long while, but who he'd only known for a few months. Her letter said simply,
Please accept this gift as a reminder that in our industry and in this world, there is far more beauty than ugliness. And that sometimes you don't have to go looking for it… because it will find you.
CONNER: I opened it up and it was a brand new Nikon D600, my exact camera that I'd lost. At this point I was hysterical. I just kept rereading and rereading and rereading the letter, amazed at how kind and generous this person was. I just couldn't believe it! That moment of sheer shock!
Many photographers may feel compelled to isolate themselves out of insecurity, competitiveness, or any number of reasons, but Conner's story goes to show just how powerful building a supportive community within your industry can be. And the giving didn't stop there.
CONNER: There was such an outpouring from the community afterward about how awesome this was, and then not even a few hours later, I had someone in Spokane call me up and say, 'I know you just got a new camera, and I'd like to give you a lens. Take it, I just don't want to be named.' I didn't know what lens it was, it didn't matter, I would make it work, I just was so happy! It turned out to be a Nikkor 50mm f/1.4, and it is just the perfect lens… exactly what I was using before. And it's just so amazing that this happened to me in the course of 72 hours… I went from hopeless, starting to call relatives, looking into how much a loan would cost… to in 72 hours, being back and financially secure. It was just the most emotional three days. And so I just can't thank the community enough, because without all of the shares I don't know if she (Shana Rae Rosengarten) would have seen it when I originally posted the message. I just can't thank her enough. I don't know what I would have done without her, I was honestly dead in the water.
Conner admits that he's always been very good about taking the art side of photography seriously, but the move to taking the business side seriously has been a more recent decision. It has been his sole source of income and a full-time career for about a year now. When I asked Conner if he would be taking the plunge and insuring his gear, I got a quick and emphatic YES. Hopefully in reading his story, you'll review your own coverage choices as well.
CONNER: I didn't have insurance before. I didn't have renters insurance even, I was always just putting it off. After it happened, I called a friend in the insurance business and was like, Monday morning we are going over how much its going to cost to insure everything… if I am not in my state, if it's in someone else's car, all of that! I DON'T want it to happen again! It was too difficult the first time.
On the topic of investing in a community, Conner's advice is simple. And clearly from his experience, the value of friendships outweighs the expense of gear any day.
CONNER: Being part of a community is important to me as a photographer, because I had a lot of self-confidence issues growing up… So my call would be to just be open, be loving, be kind, and be willing to share knowledge, because knowledge is so much power as a photographer. And if you aren't sharing that, you are just hoarding it.
Photography is an art that is not meant to be hoarded. It's meant to expand lives. Realize what you are focusing on, move past it, and grow into a stronger photographer.
CONNER:In reality, it is a privilege to photograph people. The quote I live my life by now is 'I am a tourist in other people's realities.' So I really want to talk to people about what they find important. If you can get to the point where you are comfortable enough about yourself that you can explore ideas with other people, you are going to start growing because you aren't worried about, oh they are going to steal my ideas, are they going to steal my models, my subjects, my consumers… you stop thinking about that and start thinking about how you can make yourself better and how you can share what you've learned with other people.
While photographers may sometimes be guilty of working in isolation, remembering what can be given and gained by connecting with others in the craft can lead to a much more rewarding career. And sometimes, it can even save your skin.
Thanks to Conner for sharing his story. To connect with him, find Conner Allen Photography on Facebook and check out his website.
CREDITS: All photographs shared by Conner Allen  are copyrighted and have been used with permission for SLR Lounge. Do not copy, modify or re-post this article or images without express permission from SLR Lounge and the artist.
Megan Kennedy
With roots in nonfiction and commercial video production, Megan found a passion for still photography in 2009 while traveling through Ghana. Today she shoots weddings and portraiture with an adventurous bent with her husband at Rogue Heart Media, as well as continuing her work in video production. Connect with her on
Facebook
or through their
website
.