There is no denying the DSLR is one of the most powerful consumer accessible video options out there. One of the biggest weaknesses though is, and has always been, the audio inputs on these cameras. This has given rise to portable audio recorders like the popular Zoom H  and Tascam DR Series recorders.
Well, for all of you video shooters out there, Zoom just announced their latest addition to the audio recorder family, the new Zoom H5. This is meant as a direct upgrade from the widely popular Zoom H4n, and it looks to be pretty impressive. Though I have to wonder if it's even worth upgrading from the H4n, which is still a very impressive audio recorder.
Zoom H5 Features
Uses a system of interchangeable input capsules that can be swapped out as easily as the lens of a camera
Includes detachable X/Y capsule (XYH-5) with extended signal capacity and shockmounted mics for reduced handling noise
Compatible with all Zoom input capsules
Four-track simultaneous recording
Large backlit LCD display
Records directly to SD and SDHC cards up to 32GB
Up to 24-bit/96kHz audio in BWF-compliant WAV or a variety of MP3 formats
Two mic/line inputs with XLR/TRS combo connectors each with selectable phantom power and -20dB pad
Analog-style gain controls for each input
Protective "roll-bar" type covers prevent accidental movement of gain controls
Plug-in power (2.5 volts)
Built-in effects, including low-cut filtering, compression and limiting
Chromatic tuner and metronome
Auto-record, Pre-record and Backup-record functions mean that you'll never miss that perfect take
MS decoding
Multitrack to stereo internal mixdown
Normalize, Divide and Trim editing
Voice memo and up to 99 marks per recording
A/B loop playback
Variable playback speed and variable pitch without affecting playback speed
Multichannel and stereo USB audio interface for PC/Mac/iPad with loop back function
Mountable directly to DSLR or camcorder with optional HS-01 Hot Shoe Mount adapter
Uses two standard AA alkaline or NiMH rechargeable batteries
Over 15 hours of operation with alkaline batteries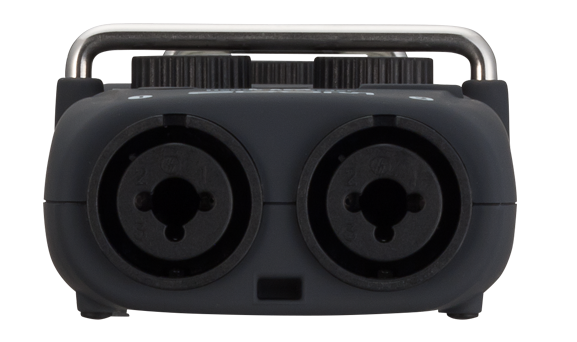 The new Zoom H5 is now available for pre-order from B&H and is expected to be available on July 28th. The price, $270, is pretty steep, but I think that for the quality and features, it is a fair price. What are your thoughts on this new audio recorder from Zoom? Is this enough of an upgrade for you to switch from your current recorder? Leave a comment below and let's discuss.