It seems as the years progress, there's more of a concern for protection of intellectual property, and in our world, that's our photographs. I'll be one of the first to say that setting copyright info on your photos is not going to stop people from trying (and succeeding) in using your work without authorization if they really want to, however, just as putting a lock on your home won't stop a burglar from getting in if they want, it's always helpful to have up a few barriers. It can also be helpful should you find someone using your work and decide to pursue some form of legal action. Again, I would interject though, that you should be registering these images.
Anyway, a lot of photographers tend to update their copyright at the start of a new year, though some put a more encompassing copyright with only their name. Lightroom, ever useful, makes it entirely easy to create and apply copyright info to your photos. You can do it by creating a preset which you can apply per photo or through import. Here's the how to do it:
Lightroom Copyright Application
1. Enter LR and ensure you're in the Library module. At the top menu bar, select the following: Metadata>Edit Metadata Presets
2. There will then appear a scrolling list menu. Scroll down to "IPTC Copyright," drop the menu down, and complete the fields as per your requirement.
3. When you are through, LR will ask you if you'd like to save as a preset. Click save, and name is as you'd like. Copyright and the year usually makes it simple. The 'Copyright Info URL' section is there should you have a dedicated url where your terms of service can be found.
Once you have completed the above steps, you can go into an image, and using the Metadata menu on the right of your module, select it.
You can also select it when you are importing as seen on the last.
Thoughts
Setting the metadata in camera is also quite simple with most brands, and some can be done in-camera or with use of a desktop utility like that of Canon which can be found here.
The SLR Lounge Preset System
If you're a habitual Lightroom user, or would like to become more proficient in your editing and workflow you likely are, The SLR Lounge Preset System is something to consider. From color correcting, application of color and black and white effects, specialty lens effects, HDR, and professional retouching, and more, it's the benchmark Lightroom system.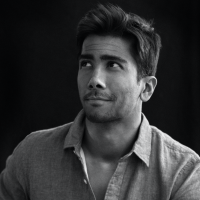 Kishore Sawh
A photographer and writer based in Miami, he can often be found at dog parks, and airports in London and Toronto. He is also a tremendous fan of flossing and the happiest guy around when the company's good.