Buying bags as a mirrorless owner can be a bit of a pain. Most of the larger sized bags you can find are designed for DSLRs specifically, and thus don't hold your gear the way you would like. At the same time, most of the smaller sized bags are designed for bridge cameras or point-n-shoots and don't have enough space for you to carry your kit.
Think Tank has developed a new bag series, Urban Approach – specifically with Mirrorless shooters in mind – with the hope of alleviating this problem. In April, when the series is released, there will be both a backpack and messenger/shoulder bag version for consumers to choose from.
The backpack, according to Think Tank, will be capable of holding an entire two camera kit (two mirrorless cameras with lenses, and up to 8 additional lenses), as well as a laptop, and additional room for miscellaneous items.
The messenger/shoulder bag will feature room for a single mirrorless camera with a lens attached, as well as up to three additional lenses and a tablet – a great bag for walking around, or for when you don't need your entire kit.
As I mentioned above, the Urban Approach will be available come April. The Backpack will start at $169, with the Messenger/Shoulder Bag starting at $119. If you are interested, you can pre-order both bags over on B&H now.
Personally, I am excited to give these a try once they are released. As I mentioned in the opening paragraph, getting a bag that fits your mirrorless camera and kit can be a pain.I have yet to find a bag that I am 100% happy with then it comes to how my mirrorless kit is held.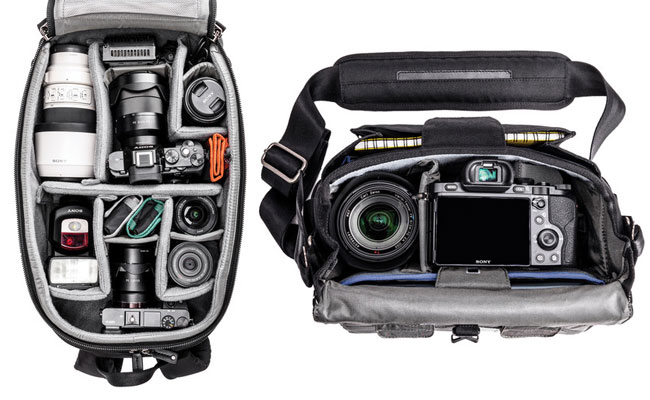 The problem, usually, comes in with the spots designed to hold cameras. Simply put, the spots are way too big for mirrorless cameras, and even when using modifiable cases, a lot of the time, you can't modify it enough to fit correctly. This leads to your camera not being held securely in its spot, so it's constantly moving and jostling around in your bag – never an ideal thing (even if the bag is padded).
I will be getting one of these once they are available to give them a try and see if they do actually hold my cameras more securely than other bags that I have tried. So, stay tuned for that once I can get my hands on one.
Until then, keep an eye on B&H for when they start shipping, or pre-order one today!