Some of the first results are coming in around the web about the new Tamron 150-600mm regarding its performance. One of the best controlled tests that I have seen yet was done  by the guys at LensRentals.com who just had quick "lab test" shootout between the Tamron 150-600, Tamron 200-500(the old version), Canon 100-400L, and Sigma 50-500.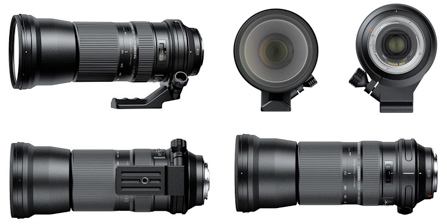 This is one of those zoom ranges that is not usually filled by professional photographers looking for top image quality, but rather hobbyists or enthusiasts that need as much range as possible, at the lowest possible price. From the results shared in their testing, it is easy to see that the Tamron competes well in this space, providing quality results throughout the focal range. It will not beat out professional 2.8 zooms or primes, like the Canon 300mm F/2.8L, but it will provide results that should satisfy the majority of its target market.
An interesting note, according to the results of this Lensrentals.com test, the new Tamron performs equally to the Canon 100-400mmL, at almost $700 cheaper.
The bottom line, though, is at 400mm the Tamron 150-600 VC and Canon 100-400 IS are virtually identical, with the Tamron 200-500 and Sigma 50-500 a bit behind. Let's keep it in perspective, though, both the Sigma and Tamron 200-500 are still very good at 400mm.
Roger, who conducted the test, went on to say…
It's pretty obvious that the Tamron has both 600mm range and the lowest price. These tests, and everything I see from photographers using the lens in the field, support that it's of at least equal image quality. Some people will prefer the extra wide range of the Sigma, others the lighter weight of the Canon. But for a lot of people, the Tamron is going to be the best bang for the buck.
So there you have it. If you are looking for an affordable ultra-telephoto zoom lens at an affordable price that will get you good results, then it appears the Tamron 150-600mm VC, coming in at $1069, is a lens that you should look into. At the very least you should consider renting it and giving it a shot (3 Days For Only $49 from BorrowLenses or $50 from LensRentals), it never hurts to test lenses out before you buy them.
I highly recommend heading over to LensRentals.com and checking out the full write up so you can have the full context of the post. I have a request in for a copy of this lens to review, and hopefully, I will be able to get it soon and share my results with you.
What are your thoughts on the performance of this lens? Do you place more stock in lab tests or real world tests? Share your comments below to join the discussion.
[via LensRentals Blog]