Usually, this post is reserved for actual deals, sales, events, etc. But today, I wanted to focus solely on new products that have been recently announced and are now available to be purchased. So while these are not deals per se, these are notable products that you can put on your wishlist.
Sony A7R II
Should be pretty obvious as it's been all over the photography news media, but in case any of you were under a rock or something the last week or two and hadn't heard the news – Sony's A7R II is now available for purchase. That said, stock has been somewhat limited, so you probably can't stroll into your local store and find one yet.
We have posted some of our initial thoughts on the A7R II after a wonderful Sony event in Portland; you can read that here. If you are interested, the A7R II is now available for purchase over at B&H. It is worth noting though that they already sold off their initial stock, so new orders will be going out as they get new A7R II shipments in.
Zeiss Batis 85mm F/1.8 & 25mm F/1.8
Similar to the Sony A7R II above, the Zeiss Batis lenses have seen a huge demand since being announced, and essentially never even made it to store shelves. They all got shipped out to pre-orders and are now being filled as new shipments come in.
That said, the lenses are newly available (despite many sites still listing them as pre-order). If you shoot or are interesting in getting on the Sony A7 train, these are lenses that you should be looking at for your kit.
If you want to get one or both of these, you can find them over on B&H here.
Sony RX100 M4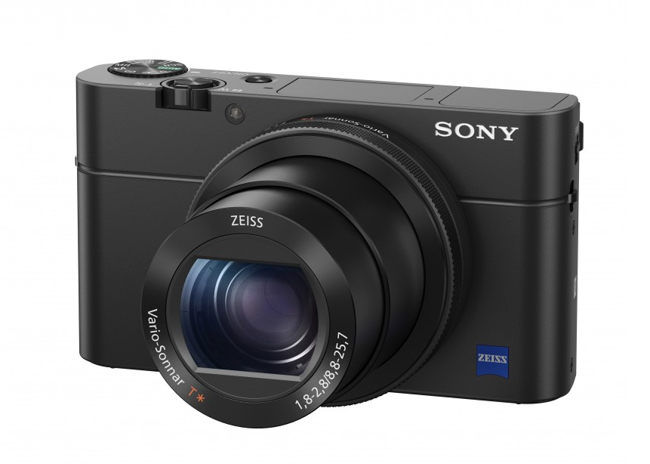 The Sony A7R II may be getting all of the hype, but the Sony RX100 M4 is the new pocket camera to beat. Capable of 4K shooting, and boasting some impressive sensor upgrades over the previous RX100 M3, this is the ultimate family outing camera for a professional who likes to have control, but needs to shed the weight of their pro kit.
The other nice thing, unlike the previous two sections above, this product is actually widely available right now. Meaning if you want it bad enough, you can order today and have it tomorrow.
You can grab the new RX100 M4 here.
Sony RX10 II
All the hype has been split between the A7R II and the RX100 M4, but if you ask me, honestly, the Sony release I was most excited about for me personally was the RX10 M2. This is a camera that I see as sort of the ultimate run & gun video rig. It is capable of getting great stills and shoots 4K video, all with a constant F/2.8 lens and ~200mm equivalent FoV.
The previous RX10 was one of my favorite cameras for a quick video rig, and the RX10 II looks to carry on that legacy well. I already have an A7II, so I don't see myself upgrading to the A7R II, but I can definitely see myself with an RX10 II in the future.
If you are interested, you can find the RX10 II here.
This is our daily deals report where we will feature a deal, or deals, that we think you should know about. Feel free to let us know about any deals you run across by sending me an email (link in my profile) or leaving a comment below!