Can anyone actually deny that the most controversial piece of mainstream tech this year is the MacBook Pro? Hardly. The slender piece, devoid of a variance in ports but with the addition of the Touch Bar, has become the subject of newspaper and tabloid fodder and Apple has teased the functionality of the 'breakout' feature (Touch Bar) but not released that functionality for the photographic world until today. Now, Photoshop actually supports the Touch Bar.
During the keynote release of the MBP, Photoshop's Experience Design Manager, Bradee Evans, demonstrated to us the Touch Bar in action with Photoshop, claiming the new MacBook Pro and Touch Bar were "made for each other." Her theory was that working with the new larger trackpad and Touch Bar created a new but very natural way to interact and wield with the vaunted program, but until now that hasn't been an option.
What she demonstrated was interesting, and impressive, albeit limited. For those who do high-end retouching or general Photoshopping, the likelihood is we'll be using a tablet of some sort (even an iPad), and we can already program certain keys and functions to said tablets, so the question is who exactly this is meant for, and at what level. Here's what Stephen Nielson, Senior Product Manager for Photoshop has to say:
In designing the interaction with the Touch Bar, we imagined three distinct categories of functions that would be useful to our customers: Layer Properties, Brushes, and (true to Photoshop's ethos) your customizable Favorites.

Inside the Layer Properties section, you can quickly access common actions like place a Smart Object, clip Layers, and open Select & Mask. Controls for changing the blend mode and scrubbing through the history are especially nice to use on the Touch Bar Retina display because of a visual preview of the result.

The Brushes section gives you quick access to brush color, size, hardness, opacity and flow. Each of these commands has a movable slider to pick just the right value.

The Favorites sections allows you to configure your own set of favorite actions. This includes any combination of actions from the previous sections, or other commands like Full screen mode, Flip Horizontal/Vertical, and launching the macOS share menu.
Hopefully we'll get some hands on with it soon, but if you have a new MBP, and you use Photoshop and have tried this, let us know your findings as we're all interested to hear.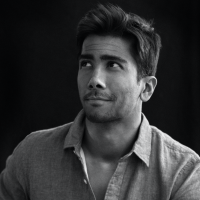 Kishore Sawh
A photographer and writer based in Miami, he can often be found at dog parks, and airports in London and Toronto. He is also a tremendous fan of flossing and the happiest guy around when the company's good.