A new lens announcement from Nikon is always something to pay attention to, especially when it's from the end of the company that's less trying to please the masses and more making it a point to, well…make a point. This new offering is one such offering and comes in the form of the (and it's a mouthful) AFS Nikkor 180-400MM f/4 E TC 1.4 FL ED VR. The new super-telephoto is said to be an exercise in all the latest Nikon technologies including Nikon's first ever built-in teleconverter (1.4x), 8 ED elements, 1 flourite element, nano-crystal coating, VR up to 4 stops with or without the TC, and weather sealing.
This is, by any stretch of the imagination, a professional super-telephoto zoom. Its extended wide range of 180-400mm and a constant f/4 aperture is more flexible than Nikon's AF-S NIKKOR 400mm f/2.8E FL ED VR, whilst still being able to easily isolate a subject even in low light. The built-in 1.4X teleconverter is a further boon to this flexibility as it allows one to seamlessly switch from a 180-400mm to a 252-560mm (FX-format) focal range.
When used on a DX-format DSLR or FX cameras in DX crop mode the focal length is an even more significant equivalent of 270-600mm (378-840mm with teleconverter engaged with f/5.6 aperture).
The 1.4x teleconverter can be engaged with a toggle of a switch via a single finger with camera at eye level.
"Whether capturing fast-moving winter sports on the slopes or elusive wildlife at a distance, photographers can shoot with confidence from this high performance NIKKOR lens. The new 180-400mm f/4 is optimized for high-speed capture, and features an electromagnetic diaphragm, helping to create smooth and consistent exposures while shooting high-speed bursts of images. What's more, the AF tracking algorithm controlling the motor drive has been enhanced to increase tracking performance of fast moving subjects. When using cameras equipped with Nikon's advanced 153-point AF system (D5, D500, D850), the outer row of AF points are activated as cross-type sensors to significantly enhance the AF coverage throughout the frame."
The new lens is not for the meek, coming in at 7.3 lbs, and with a price tag of $12,399.95. Suffice to say the numbers associated with it are big all 'round. so it's a big size lens – for a monopod and or tripod. For that it has a ball bearing centered tripod collar, with the zoom ring in front of that and focus ring right above the tripod collar. It also has a programmable AF stop button in 4 different positions, and we've been told that there's a future upgrade for cameras (firmware) which will allow D850, D500, D5 to have two outer rows of the vertical array to be cross type sensors on the outside periphery on the grid.
When it hits the market it'll be about mid-march since all early production is devoted to early testing at the olympics.
One of beautiful things about Nikon, as those of us who have been shooting it since neonates can attest, is that the the F-mount's consistency has meant that there is a veritable cornucopia of lenses from which to choose, with many of the old as good as the new.
One type of lens Nikon has much experience in is the telephoto zoom, and for those who aren't aware, Nikon currently has some 15 zoom lenses with a max focal length of 300mm and above, ranging from the surprisingly decent AF-P NIKKOR 70-300mm f/4.5-5.6E ED VR, to the somewhat astonishing AF-S NIKKOR 300mm F2.8G ED VR II, all the way up the focal and price range to the eye-wateringly expensive and equally as impressive AF-S NIKKOR 800mm f/5.6E FL ED VR. This new 180-400 becomes one of 5 Nikon zooms to reach the 400mm range. Exciting times.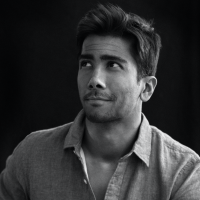 Kishore Sawh
A photographer and writer based in Miami, he can often be found at dog parks, and airports in London and Toronto. He is also a tremendous fan of flossing and the happiest guy around when the company's good.