I'm Vanessa Joy, a NJ NYC Wedding Photographer and I'm here to talk to you about the brand new version of Fundy Version 10. Now, I know what you're thinking, great another upgrade. But I think you're going to want to hear about this one.
First up is one of the best new features in the program: Drop Zones. Instead of having to sort of manually change the image ratio or size, now we can click on the space between the images and drag and change the ratios of what we want it to look like.
You can also drop images into specific columns and then just keep stacking them. All of the other photographs will adjust. I'm loving having that kind of freedom to drag and drop within the columns and within the design itself – so much more better than before.
[Related Reading: Interview with Selena Rollason, of Brisbane Birth Photography | SLR Lounge and Fundy Designer Artist Feature (NSFW)]
Next up is custom slideshows. Previously, you couldn't match the music to the timing or the images that you were popping up there. Now, you can come right in and match music so the images and music end at the same time. You now are also able to build custom slideshows with photographs and designs in any order you choose.
Going back to the actually designing of the album itself, you can now adjust exposure right in the designer under the Perfectly Clear editing tab. I have been begging for the ability to adjust exposure within the album design because, as consistent as we can be in our shooting and our editing, sometimes you just get images that don't match. And naturally when that happens your client will want them on the same page.
Admittedly, the only thing I wish could be added here is white balance correction because as much as I can adjust the exposure up images may still not match because of the white balance. Please add that Fundy!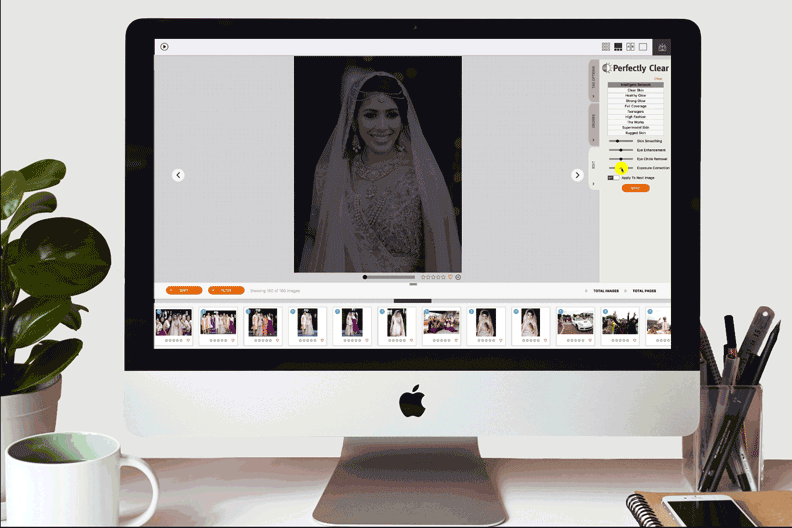 If you like using the auto design feature in Fundy, you're really going to like this next update: Custom image Ordering.
You can click and drag your images into whatever order you'd like. Being able to rearrange your images manually is wonderful because, let's just say you're shooting a wedding. You've likely organized or numbered the images by chronological order. That's good. However, chronologically, you probably have the bride and groom's prep all mixed in into the same spot. So, when you go to auto design, it's all going to mix it into different pages… not so great.
Now, you can just click and drag, maybe all of your bride's prep images, and drag them all over to one side while you take the groom's prep images and drag them over to before or after the bride's prep. Now when you go click auto design, there's no mixing of all the images in the design. Being able to fine tune everything beforehand will make things run more smoothly so that once you hit auto design, it's done.
[Related Reading: Photography Travel Tips, with Nikon Ambassador Kristi Odom | Fundy Designer Artist Feature]
The last new feature I'm going to talk about is the ability to use partial design. Say you want one half of the design template on one page but not the other half. You can do that now and just switch out the right or left side, which is exactly what I use for designing my branding magazine that's been helping me build relationships and book jobs left and right. You can download that branding magazine that I designed in Fundy right here. It's got tons of inspiration that you could use for marketing your own business. I've printed out a bunch of them at Floricolor and started sending them to different vendors and clients and have booked weddings because of it.
There's thousands of dollars of new design features in the upgrade as well and some other new capabilities like Theater Mode. To be honest, I don't really use a lot of them, but it's helpful for things like album designs and thank you cards, really anything that you're going to use Fundy for.
Pricing for the upgrade will start at $99 with the pro and the album suite start at $379 or $24 a month.
Overall, I've absolutely needed this update. It's helped make everything more intuitive, faster and easier to work with in front of clients.
Vanessa Joy Photography
Vanessa Joy is a professional New Jersey and New York City wedding photographer capturing NJ, NY, Hamptons, Long Island, NYC and destination weddings. With an emphasis on luxury weddings with an extravagant flair, Vanessa Joy focuses on creating a unique boutique experience with each of her couple's wedding photography. Vanessa is an experienced photographer who has captured everything from Jersey Shore Weddings and NYC weddings, to elegant formal affairs at Pennsylvania farms and vintage chic weddings with intricate wedding details.