Today Apple made a number of announcements, and chief among which was the release of a new 9.7 inch iPad that, for the first time outside the 'Pro' line, could be used with the Apple Pencil. It also has the A10 chip (not the A10X as in the Pro), will see 40% increase in CPU performance over the last generation and 50% increase in graphics performance – all for $329. And that, makes the new iPad a compelling unit for photographers.
When the first iPad came out I walked into an Apple Store in England, and asked the salesman to 'sell me this iPad.' I wanted to know why I should adopt it early, and when he couldn't explain it, I didn't buy it. But that's the hardest question of all, is what would I use it for and why? For photographers, the case for an iPad as a tool is pretty much now made.
The 10.5 inch iPad Pro has become integral to my life as a creative in the past year, both as a work tool and as a showcase and for convenience. Of course it's a unit that can be used to read, browse, watch movies et cetera, but its utility for photographers is now vast, especially within the past two years as the device's raw handling capability came into its own and software like Affinity Photo for iPad was released, and cloud systems have proliferated.
It's an incredible tool to showcase your work, and perhaps one of the best ways to share your photos. I adore prints, but being able to have perfect lighting on an image all the time to show clients, models, and friends and family means they see the work at its best – if not its largest. And then if you use Capture One (with Pilot) you can have your images show on the iPad as you tether, allowing clients, MUAs, models, or yourself to see the images conveniently.
But beyond that the iPad can now store and open raw files from over 400 cameras, which means you can actually do proper editing on the unit on the fly. With the SD reader from Apple you can transfer your raws and then with the speed and accuracy and low latency of the Pencil retouch images extremely well. Affinity Photo for iPad is simply incredible, and is basically a full-fledged pixel-bending processor and editor on your iPad. And with Apple's new iOS ability of drag and drop, it's all the easier to use still. Will it replace the Wacom? For some it absolutely could, and has. Take for instance those who use Astropad to use the iPad as a type of Cintiq…
And then, when you're on the move, you can use the iPad as a second screen, which I'm prone to doing with Duet App, and it's incredibly fast (see image above).
The thing is though, that before the iPad pro, the units weren't powerful enough to really handle proper work, but now they are, and this entry-level one is too. So for $329? Yeah, I'd say it's a good buy for the photographer.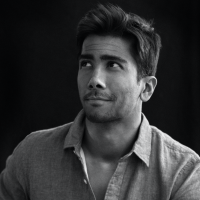 Kishore Sawh
A photographer and writer based in Miami, he can often be found at dog parks, and airports in London and Toronto. He is also a tremendous fan of flossing and the happiest guy around when the company's good.