There was a reason I went years without upgrading my go-everywhere point and shoot camera; the gap between their capability, and that of smart phones, was shrinking at an astounding rate, and the best of the point-and-shoots were simply not good enough to merit their price tag, in my humble opinion.
The last 5 years, perhaps even 10, has seen global interest in high function cameras integrated in other forms of consumer electronics, spike like your blood sugar on National Donut Day. Except there has been no market equivalent of insulin to temper said spiked demand. Phones, tablets, portable gaming consoles, laptops etc, continually tout new camera improvements among their major features in new models, and as we know those products repopulate store shelves every season like a virus in an incubator.
These devices tend to be small, and tend to become smaller with time. As such, the cameras need to become smaller, and lighter akin. As photographers, we know a major component to a good lens is its aperture. It allows for good light gathering, aiding the sensor in capture and rendering of dynamic range, and with the right shapes of the iris blades, will help impart beautiful bokeh as it eliminates certain marginal light rays.
The problem is we are reaching, or have reached, the physical limit of the standard aperture blade format. In order to keep pace with new devices, things have to get smaller, and some German researchers from the University of Kaiserslautern think they've hit upon the answer. It could be big news.
It's a 'micro iris' that uses concentric, transparent, chemical rings that can be darkened and lightened to adjust the size of the aperture, as minimal voltage of electricity is applied. With this set up, there is no need for overlapping blades as is the custom. Currently, the new iris would be 55 micrometers thick, and is essentially 2 glass substrates put together and each has a very thin film of an electrochromic polymer PEDOT, which are on an underlying electrode, which is transparent. Not only is it small, but it uses a minimal amount of power, which will aid the device's battery life.
Currently, the material is a little restrictive, but lead author of the study, Tobias Deutschmann, was quoted,
However, the synthesis of optimised EC materials is under rapid development. We will now further investigate the potential of optimised electrochromic materials, with a particular focus on improving the optical contrast and, in particular, the control of the depth of focus – this is the decisive hardware parameter which determines the success of next-generation models in the smartphone business.
See here for the study in the Journal Of Optics.
Thoughts
There's not much I can say to this other than I think, if it can be implemented in a timely manner, that it's a brilliant idea. What this spells for proper cameras – allow me to rephrase that: What this spells for stand-alone dedicated cameras, I'm not sure. This sort of tech, I could see being hugely beneficial if integrated into our typical interchangeable lenses. We could see odd shaped bokeh disappear in favor of super smooth, super round bokeh. It would also probably have a tremendous effect of the weight of lenses and the price. I'll look forward to seeing how this develops.
In another note, leave it to zi 'Chermans' to think of this brilliant and elegant design. I actually read over the entire study, and it feels very compelling. Except for one thing: there was more than one blatant spelling/grammatical mistake, and the clinical level of attention to detail that comes from German engineering firms just made me think that the poor chap who made them, was being led out back like Old Yeller.
Source: BBC (of course)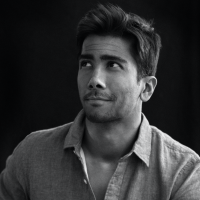 Kishore Sawh
A photographer and writer based in Miami, he can often be found at dog parks, and airports in London and Toronto. He is also a tremendous fan of flossing and the happiest guy around when the company's good.