Definitive? Doubtable. Debatable? Definitely. But there are still things about rumors, and this lens rumor in particular tickles in the right places, excites, and springs hope. Total greenhorns and seasoned pros alike all know their kit isn't complete without a 50mm focal length, and as such, nifty fifties have become a staple. It's that lens that makes newbies feel like pros, and pros feel like…something or other good.
Of those, the Canon EF 50mm f/1.8 II is arguably the most popular, and recently there has been a challenger to the throne by shape of Yongnuo, which has been getting a lot of press given its bottom of the barrel price. A newer Canon 50mm 1.8 has been creeping around the rumor mill for some time now, and the image above seems as though it could be that new lens.
It's a low-res file that Photo Rumors received from an unnamed source, but all indicators apparently point to this being the upcoming Canon EF 50mm f/1.8 IS STM.
From what we can deduce from this picture, it certainly appears to be of significantly better build quality than the one it would replace. As well as it performed, the current 50 1.8, I've always thought felt cheap, and looked it. I never liked the focus ring and that seems to be the glaring improvement on this 'newer' version.
Worth noticing too, and this could just be the image, but the front element of the lens appears significantly different, larger, than what would be the predecessor. This actually is more akin to what is found on the EF 50mm f/1.4 USM. So it begs the question, is this actually the 1.8, or is this more set to replace the 1.4, which it appears would be a better fit. Because if it does replace the 1.8, I'd assume the price point will not stay the same, and that, in the face of challengers, is probably not something Canon is going to do.
Time will tell.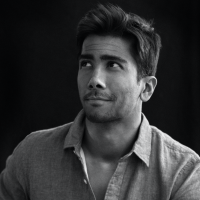 Kishore Sawh
A photographer and writer based in Miami, he can often be found at dog parks, and airports in London and Toronto. He is also a tremendous fan of flossing and the happiest guy around when the company's good.