In our previous articles (see Part 1 and Part 2 here), we detailed what you would need in order to prepare yourself to throw down at a wedding/bridal show. From a booth to collateral, we discussed what you might need and what it will cost (quick recap: for a larger show, you can expect to spend $4,000). Of course, that's our opinion; we like to do things right and tend to "go big or go home." So, undoubtedly, you could cut some corners and spend a little less by constructing a smaller booth, giving out simpler handouts, etc.
In this final article in the Wedding Show 101 series, we want to leave you with a few tips for the actual show itself because we don't want you to neglect the great opportunity you will have to network with leads (people interested in your services) and other vendors (bakers, florists, magazines, venues, etc.).
Things to Consider When a Lead Wants a Closer Look at Your Work
First, you should have something tangible that showcase your images. We always take a few sample albums. We currently use Blacksmith (traditional photo album) and H.H. Boogie (a handcrafted wooden memory/photo storage box), and we take samples with us. Second, we take 100-200 of our favorite images, make a slideshow, and show it on our Apple 27" iMac. No big deal. We keep it pretty simple here, and you could easily up your game by adding in your own promo video. It's another avenue by which you can show what you can do as a photographer, and we've had people sit through our entire slideshow, which we keep between 5 to 10 minutes.
Third, we like to give our leads a "business card," which we place inside the collateral that we hand out if they are interested in our prices. It's another way for them to remember us. And we try to do something unique. Currently, we use coin/small parts envelopes (2.25″ x 3.5") and stamp them with our logo (we use Rubber Stamps, Inc. and get the ink on Amazon). Then we throw a few promo stickers inside (Vinyl Disorder is our go-to sticker supplier). This is really optional, but we use them outside of wedding shows anyway, and they aren't that expensive. Total cost for 1,000 of our "business cards" (including the envelopes, the stamp, two ink pads, and the stickers is just under $200, which comes out to about $.20/each).
Don't Overlook Interacting with Other Vendors
Even at smaller shows, we always have at least 2 people in our booth (either the two of us or one of us with our assistant). And, if we can help it, we'll have 3 people (both of us plus our assistant). Not only do you want to be available to speak with as many leads as possible, but you will also want to take some time to go around and meet with other vendors and exchange contact info. This is definitely an overlooked aspect of wedding shows. By interacting with other vendors at wedding shows, we've secured free features in wedding magazines, made connections with venues where we later became "preferred vendors," and even scored free hockey tickets from a guy selling newspaper subscriptions and a trade-for-services deal with a dentist.
For vendors at wedding shows (and vendors that we meet in our day-to-day), we actually get a more traditional business card that we stuff into "sticker envelopes." And we don't go too crazy here because the envelope and sticker are niche enough. We get 500 at a time from Vistaprint ("Ultra Thick Matte Stock," w/color on both sides), which costs about $150, or $.30/each.
Is a Wedding Show Worth it?
We think it is worth it to do a wedding show, esp. if you are in your first years of photography. Now, if it's your first show, you're going to spend upwards of $4,500 (remember, it'll be cheaper next time if you reuse your booth and use a similar, if not the same marketing materials). That means you're going to need to want to book at least 5 weddings (and probably more depending upon your package prices) in order to recoup your costs and make it worth your time. That's our general rule: book 5 & survive (but 7 is heaven). And while it's not for the faint of heart, you'll learn a lot about yourself and your business when you stand amongst a sea of professionals and try to sell your services to strangers.
Questions? Comments? Leave us some feedback below or hit us up on Twitter: @sunshinexreign.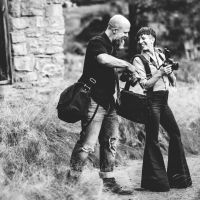 Amii & Andy Kauth
Amii & Andy are a wife and husband team of rad portrait and wedding photographers (Sunshine & Reign Photography) who absolutely love life and are generally just stoked! Yeah! When they aren't photographing or writing and teaching about photography, you'll find them off on a seriously legit adventure with their little ones, lifting weights in their garage, training jiu-jitsu, refining their archery skills, or surfing every chance they get. And on the rare chance they escape off on a "date night"? Yep! They'll find a wedding to crash (true fact). Website:
Sunshine & Reign Photography
Instagram:
@sunshineandreign