Hello Everyone! Welcome to Natural Light Wednesday, the new series where I feature news, gear, techniques, and photographers who specialize primarily in natural light photography. We are big fans of Natural Light Photography here at SLR Lounge and we wanted to do our part to help feature and bring more light (haha pun intended) to those of you who specialize in natural light work.
Featured Gear
This is probably a pretty obvious one to you natural light shooters out there, this week I wanted to feature what could be called a natural light photographers best friend: The 5-in-1 reflector. When you are out in the field 5-in-1 reflector is a valuable assets to photographers who need to work fast to catch the ideal light. The ability to choose from one of 5 different surfaces depending on your needs in the field is priceless. The 5-in-1 is available through several manufacturers at varying sizes and prices. In our Natural Light Couples Photography DVD we feature the Westcott 5-in-1 reflector, which is a great option. In my own personal work I use a cheaper version that I found on Amazon for like $20, and I have been very happy with it. Here are links to both if you are looking to buy one: Westcott 301 Photo Basics 40-Inch 5-in-1 Reflector and Neewer 110CM 43″ 5-in-1 Collapsible Multi-Disc Light Reflector.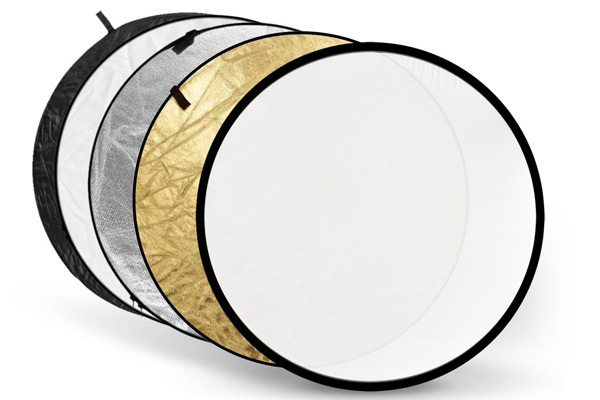 Featured Photographer
This week I am featuring the work of Sherwood Oregon Photographer Angela Smith. Angela is a one of those overachieving do it all photographers, she specializes in Weddings and Senior portraits but also does everything from Family photos to Newborn Babies. You can find Angela though her website or on her facebook page.
I wanted to feature the work of someone who primarily deals with natural light, and Angela is a perfect example of that. Virtually all of her Couples and Senior portraiture features natural light, and I really enjoyed looking through them. I picked out five of my favorites to feature below. Take a look!
Are you interested in having your natural light photography featured on a future edition of Natural Light Wednesday? Send me an email at athurston(at)slrlounge.com with a link to your work or a sample of 5-10 images that you think fit the bill. Who knows, maybe you could be featured in an upcoming article! Ill also accept emails with tips, tricks, techniques or gear that you use in your natural light photography. 
If you have not seen it already our Natural Light Couples Photography DVD was just released and you need to check it out. It is our latest video workshop and we take you from planning, posing, shooting, and editing a complete couple's portrait session, all with just natural light and a reflector.Click here to learn more or to purchase