Shooting outdoors always presents one central choice. Do you use the available light or do you bring your own? In most cases, the available light is the easier option but, using off-camera flash can be just as effective in producing great results.
For many, off camera flash means there's one more thing to learn, one more to think about in the field, one more thing to control; and they would rather not worry about it. But, relying upon natural alone comes with its own host of challenges. Sony shooter Manny Ortiz recently held a portrait session with his wife Diana that weighed the pros and cons of both to help us understand why both options are worthwhile.
Pros & Cons of Natural Light
Pros
Freedom – You are able to focus. You can pay close to attention to creative composition and direct your subject without thinking bout flash settings.
Mobility – You can move to new locations more easily and have more freedom to move around in them once you're there.
Discretion – With only your gear and your model, you're far less imposing on the environment of your shoot and draw less attention. Other people, who may or may not be able to force you to move, are less likely to have a problem with your presence.
Cons
Time & Nature – You're at the mercy of the elements and your time is more constrained due to being limited to the window of opportunity when the light is best for your shoot.
Pros & Cons of Off Camera Flash
Pros
Control – With off-camera flash, you're able to adapt to the changing weather or a setting sun. Essentially, you enter each shoot with a plan B because you're able to recreate the look you want even if it's no longer possible naturally.
Uniqueness – Flash gives you more creative control over the look of your light and craft a style that is distinctively yours. This makes it easier for you to stand out in a world with a rapidly increasing number of other photographers.
Cons
$$$$ – Gear that this worth investing in presents a cost that will quickly add up. Be it the lights, modifiers, or means of transporting them; the cost of a solid of lighting kit is unavoidable.
Time & Immobility – As your kit grows, it will take more time to setup and more time to break down. It will probably anchor you to one spot, adding more time if you plan to move to multiple locations.
If you'd like a full guide into the world of off-camera flash, consider Lighting 201 in the SlrLounge store.
Gear Used in this shoot:
Sony a9 – $4,498.00
Sony 85mm 1.4 GM – $1,798.00
MeFOTO Backpacker Travel Tripod – $129.00
Godox X1T Trigger – $46.00
Godox AD200 – $299.00
Glow ParaPop 38″ Softbox – $209.95
For a full list, you can find Manny's Kit here.
Additional Articles for your consideration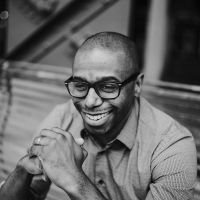 Wendell Weithers
Wendell is based in Atlanta where he shoots events, portraits, and food photography. He also supports his wife Andrea as she runs their cake design business, Sweet Details. Instagram:
Wendellwphoto