Creating stunning portraits in an outdoor setting isn't always as simple as grabbing a model and heading outside. The quality and type of light at any given time during the day changes fluctuates and can be embraced to enhance the overall look and feel of the image.
There is a saying floating around that "light is light" and that is true to an extent, however not all light is created equal. Jessica Kobeissi is back with another video about planning shoots in her ideal light, and this time it is aimed toward a beginner audience in mind.
Jessica suggests working within the two-hour window before sunset or after sunrise on sunny days. The farther away the clock is from the sun crossing the horizon on either end creates more contrast and punchier shadows.
Two hours before sunset produces a gorgeous light with great contrast that is ideal for beauty and fashion images. The final hour before the sun sets, aka Golden Hour, produces an incredibly soft and diffused golden light that is a favorite among photographers and clients alike. The same applies for sunrise, only in reverse. The light begins golden and gets harsher as the minutes pass. The light during this time changes quickly and you will be constantly chasing it.
While these two-hour windows of light are ideal for providing both beautiful light with a punch of contrast as well as subtle glowing light, they are not to be limited as the only times of day to shoot. Keep in mind that the farther away the sun is from crossing the horizon on either end creates more contrast and punchier shadows. 
High noon is a personal favorite of mine to work with as it creates moody, high-contrast images with deep shadows. As Jessica states, it can be difficult for the model to open their eyes so keep in mind that stunning images can be created leaning on the sensual side with eyes closed or by doing a "3, 2, 1…" countdown if eyes open is a must.
You can use the dark shadows that are created under the brows to play into the mood or have the model tilt their face upward for a softer gradation. This type of light can be intriguing, although the challenge and/or style may not be for everyone, and I'd suggest only working with experienced models for short periods of time in these instances.
Scheduling a shoot for a specific time of day and using the quality of light to inspire the overall mood will elevate your work. Choose the light according to your style and position the model as you see fit. It is one added element to get it that something extra.
The following video is exactly what we've come to know from Jessica; short & sweet, to the point, and always entertaining. Be sure to subscribe to her YouTube Channel if you haven't already for a lot more content.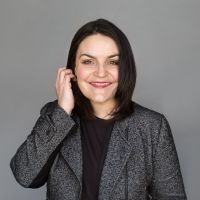 Brittany Smith
Brittany is a fashion and beauty photographer who works between NYC, Montana and LA. She photographs the way she has always wanted to feel and believes in the power of raw simplicity. When not behind a camera she can usually be found at a local coffeeshop, teaching fitness classes at the YMCA, or baking something fabulous in the kitchen. Instagram: @brittanysmithphoto