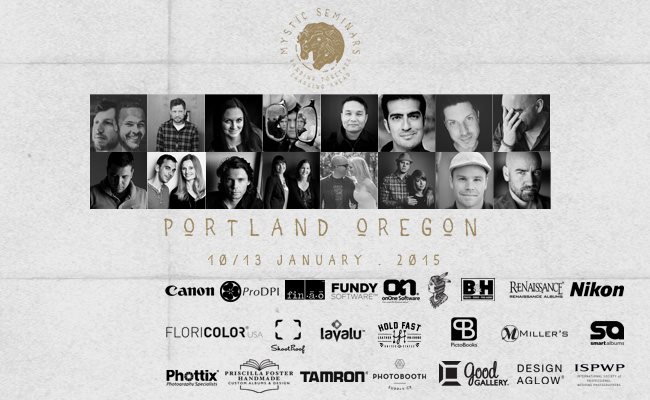 Any photographer worth their salt will freely admit that they are always learning and fine tuning their craft. You can learn a lot from online workshops and classes, like those here at SLR Lounge and on sites like Creative Live, but there is something about learning in person that you just can't replicate in an online/recorded experience.
I will be attending Mystic Seminars 2015 in Portland, Oregon this January 10-13th, and I would love to meet and connect with any of you who will also be attending!
Mystic Seminars 2015
Mystic Seminars is a unique experience for photographers. Instead of having to pick and choose what classes you want to attend, and possibly missing out on others you are interested in, Mystic only does one class at a time. This allows you to attend all the classes, which this year includes 16 seminars taught by recognizable names such as Susan Stripling, Sam Hurd, and many, many others.
Not only is Mystic a great learning opportunity, it is also a great opportunity to network and meet other photographers and representatives from the many vendors and sponsors who will be in attendance. It is really an experience like no other.
This is Mystic's 10th year, but their first in Portland. Mystic Seminars started in CT and the first edition had about 44 participants. It has grown from there – so much so that this year they decided to move Mystic Seminars across the country to Portland.
"The Pacific Northwest is an inspiring part of the United States, and Portland is a booming mecca for creative people." says Walter Van Dusen, the man behind the scenes at Mystic Seminars, "It is a great walking city and easy to get around to all of the great food and local beer! Also, Portland does not have sales tax, which is definitely a bonus."
I am also psyched to get to spend several days at the Benson hotel, the location for Mystic 2015. This is one of the nicest hotels in the Portland area; it is the hotel that the President stays in when he is in town. It is also right in the heart of Portland, making it an ideal location to see the city on your off time. They chose a great location, and the $129/night rate they secured is a crazy good deal for the Benson.
What you can expect from Mystic Seminars 2015
As an attendee of Mystic Seminars 2015 one should expect to:
Learn from some of the best photographers in the world who can't wait to motivate you.
Meet some of the best photographers in the world who can't wait to help you succeed in your business.
Check in with your favorite vendors about their new products and services.
Meet several new vendors who are eager for your questions and will have fun stuff to play with.
Have your gear inspected and cleaned by our camera sponsors free of charge.
Enjoy having lunch as a group where you can meet new and interesting people.
Create lasting memories and friendships.
Experience Portland, Oregon – green environment, friendly community, great food, great beer, great wine, exciting downtown, easy to use mass transit (and who can forget about the tasty donuts?!)
I am very excited to be attending, and am very much looking forward to learning from this exceptional lineup of photographers. If any of you are going, or decide you would like to come, I would love to meet up and chat with you all! (Leave a comment below so I know to look for you).
If you are interested in learning more about Mystic Seminars 2015, or maybe you want to register, you can find all of those details over on the Mystic Seminars website. Currently, you can still get the Early Bird pricing special of $479 for the entire 3 day event, but act soon because once early bird is over, it jumps up to $599!