I like details. I am in the habit of finding a beautiful image in the seemingly mundane, and it's usually through good light. When I get asked for a tip on how to take better photos, and that's often, I almost universally tell the budding photog to, "look for good light." To some this may sound sort of far off and Taoist, or, crap, really. However, I mean what I say, and I say what I mean. As any photographer worth his L lens knows, light affects a photo pretty much more than anything else. I see it all the time with photos that catch my eye; the contrast is magnificent; the highlights so interesting; yes the saturation and deatil as good as you'd get from a Leonardo, and it's all so well done that you don't care that the subject is actually a tv remote. Details. German photographer Lucas Zimmerman has gone quite the literal route with his project focusing on traffic lights, and was kind enough to share with me his gear, method, and inspiration. It's all rather brilliant in its simplicity.
[REWIND:You've Never Seen Dubai like this – How to Use Weather To Your Advantage]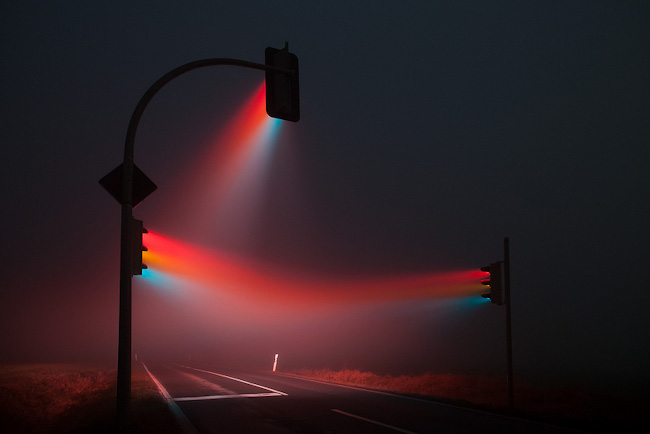 They were all shot with the 17-40l from Canon. I tried the 24-105 as well but i forgot to turn on the IS so the images were not usable
Lucas, in his early 20s, admits he didn't have a concept for this project. He simply was driving on a foggy night and saw it. He said seeing it was easier than capturing it and he had to experiment with many different shutter speeds between 5 and 30 seconds. He noticed, even while using the capable Canon 5D Mark II, that in that light, a too short exposure was giving too much noise, and a too long exposure washed out the colours. It also posed an increased threat of cars. Lucas goes on to mention that he often had to wait minutes between shots of the same set-up because each car had a profound effect on the exposure and color due to the fog.
I've had personal experience with this shooting in England where fog is often the order of the day. Walking our dogs, I've often tried to capture a scene and the fog just changes the game. Thankfully, Lucas has shared his precise set-up for the most popular of this series. It along with the gear list, below.
Gear List:
Canon EOS 5D Mark II
Canon 17- 40 f/4 USM L
Camera Settings for Shot:
Focal Length – 24mm
Shutter Speed – 20 secs
Aperture – f/5.6
ISO/Film – 800
Thoughts
This project is gaining Lucas some well earned attention. He works with his partner, Maria le Quang at Luma Visual Creations and publish all photos together, though it was Lucas who brought us these images. He had his start in photography at 16, when a girlfriend of his was into it and also, his grandfather had been a longtime photographer. He, like me, knew he didn't like to be in front of the lens, so he would stick behind it. Together, Lucas and Maria are having their first exhibition in Nürnburg in the spring. No doubt, Lucas is creating history Germany can be proud of ;-)
You can find out more about Lucas on his Behance account and Flickr, and more about Luma Visual Creations here.
CREDITS: All photographs shared by Lucas Zimmerman are copyrighted and have been used with permission for SLR Lounge. Do not copy, modify or re-post this article or images without express permission from SLR Lounge and the artist.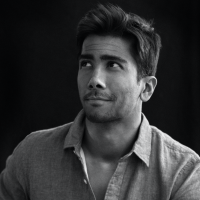 Kishore Sawh
A photographer and writer based in Miami, he can often be found at dog parks, and airports in London and Toronto. He is also a tremendous fan of flossing and the happiest guy around when the company's good.