Learn More About the Lightroom 4 A-Z Guide
The following tutorial is Lesson "Module Overview" from Chapter 2 – 2 from the Lightroom 4 A-Z DVD Guide. We will be releasing 2-2 tutorials per week from the LR4 A-Z DVD. The full DVD including 130 tutorials and nearly 14 hours of Lightroom 4 training is available in the SLR Lounge Store.
In this Lightroom Tutorial
What adobe has done with lightroom, and taken each of the photographers workflow and divded them into different Modules. In this video we'll talk about each of the Modules, what they do and what they're designed for. You can also read the article below.
Module Overview Video Tutorial
Module Overview Written Tutorial
Library Module: The Library Module is where you import your photos and begin your Lightroom workflow. In the Library you can cull, rate, edit metadata, and do overall image management and organization.
Shortcut: PC (CTRL + ALT + 1) MAC (CMD + OPT +1)
Develop Module: The Develop Module is where you edit and process your images. The right panel of the Develop Module has all the tools you need to process your images. This is where you can; edit the color of your image, rotate, crop, vignette, and much more. The left panel has different tools you need to manage your processing workflow. This is where you can adjust your presets and develop processing settings quickly to groups of images.
Shortcut: PC (CTRL + ALT + 2) MAC (CMD + OPT +2)
Map Module: This is a new module in Lightroom 4. This allows Lightroom 4 to take advantage of your camera's Geo-Tagging feature and show you where your photos were taken. The Map Module also allows you to manually Geo-Tag your photos.
Shortcut: PC (CTRL + ALT + 3) MAC (CMD + OPT +3)
Book Module: The Book Module is also a new module in Lightroom 4. The Book Module allows you to create albums and books directly from your Lightroom Catalog.  This module is very powerful and versatile; there are many different layout options, you can print directly to blurb (an online photobook company), and you can export directly to a pdf file.
Shortcut: PC (CTRL + ALT + 4) MAC (CMD + OPT +4)
Slideshow Module: In the Slideshow Module you can create slideshows with the images that you have in your catalog.
Shortcut: PC (CTRL + ALT + 5) MAC (CMD + OPT +5)
Print Module: In the Print Module you can create different kinds of Print and Contact Sheets.
Shortcut: PC (CTRL + ALT + 6) MAC (CMD + OPT +6)
Web Module: In the Web Module you can create different kinds of flash galleries for online use. Lightroom makes it easy by creating the code for you, so all you have to do is drag and drop it into your website.
Shortcut: PC (CTRL + ALT + 7) MAC (CMD + OPT +7)
Conclusion and More Info
These Modules were designed to make the photographer's workflow faster and more efficient. Although Lightroom has added two new modules, they did a great job in making them intuitive and easy to understand.
The Lightroom 4 A-Z DVD Guide will turn any Lightroom novice into a complete master of Lightroom 4 in no time! The DVD which can be played on a Mac or Windows PC includes the following:
– 130 Video Tutorials and nearly 14 hours of content!
– Over 6 hours of tutorials dedicated to developing techniques
– Full Menu System for easy navigation through the tutorials
– Bonus DVD Content that includes Advanced Lightroom 4 Techniques
– Full HD 1080p Resolution for all Video Tutorials
– On-screen Shortcut Tooltips for Lightroom 4
– Exercise Files + Final Catalog so you can follow along during the tutorials
– No Advertisements
Related Product Offers Recommended by SLR Lounge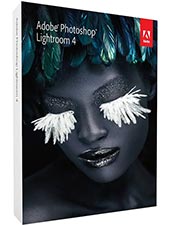 1) Purchase Adobe Photoshop Lightroom 4 through Amazon. Click any of these links to take you to the offer.
Click here to purchase Adobe Lightroom 4 from Amazon.com
2) Student and Teacher Editions of Adobe Photoshop Lightroom 4 is available through the Adobe Educational Purchasing Site.
Article by
Post Production Pye
Managing Editor