Welcome to Time Out with Tanya, where I've put my fast paced graphic design career on hold in favor of adventures in motherhood. I'm capturing every moment on camera and you can come along, if you'd like. Sign up for my weekly email here so you'll never miss a Time Out.
Meg Borders is a photographer in my area of the country and is well known for photographing high school senior girls only. Talk about a niche! She does it so well, and I'm super excited to learn from her at Click Away this fall. I was lucky enough to have the opportunity to pick her brain about her life and her work and you get to listen in…
Hi Meg. Tell me about yourself and your business.
I live in the Pacific Northwest and am married to the love of my life with 3 daughters. I am a high school Senior Portrait Photographer for teen girls.
I've been mentoring teen girls since I was a teen myself. I worked at an eating disorder clinic in my early twenties, and graduated college with a degree in psychology in hopes of going on to become a counselor for teen girls. However, photography grabbed me before I got to graduate school and I've used it as an outlet to show girls their true beauty. In a world where everything they see, watch, and read is telling them they have to look a certain way to achieve beauty, I want to show them that they already possess it and capture who they truly are, hoping they'll see themselves in a new light. I always say photography is my tool, but my teen clients are my passion.
Tell me about your journey to becoming a photographer.
I always say photography found me. It wasn't something I dreamed about growing up or ever imagined myself doing. After my first daughter was born I picked up a camera and never looked back. I am self taught – hours of online tutorials, message boards, and lots of trial and error. Its been quite a journey and I am so grateful for where I am today.
What's in your camera bag?
I shoot with a Nikon D700 and my go-to lenses are the Nikon 50mm f/1.4 and Nikon 85mm f/1.4. The 85 is my favorite though, the bokeh is so creamy and lends well to my style.
Is there anything you wish was in your camera bag?
I'd love to add a Nikon 35mm f/1.4 G to my bag this year. I haven't found a great need for it in Senior Portraits, but I'd love it for my own personal use.
What's the biggest challenge you have faced as a photographer and how have you overcome it? Or are you still working through it?
The biggest challenge I have faced as a photographer is falling into the comparison trap. It's so easy to compare ourselves and our work to others, and feel like we don't measure up. It leaves us feeling bad about ourselves and that we aren't good enough. I stopped following a great deal of photographers a couple years back and kept my eyes focused on what I was doing and that has absolutely changed my perspective. My energy now goes into my own work, versus comparing myself to others in the industry.
That's excellent advice! How did you become involved with Clickin Moms?
I became a member of Clickin Moms back when it started, and have really enjoyed watching the online community explode into an incredible organization. I taught an online breakout course for Clickin Moms 2 years ago and have absolutely loved working with them and have also been involved in a few articles in their photography magazine, Click. When they approached me about being a speaker at Click Away Conference in September, I was excited to jump on board.
What courses will you be teaching at Click Away and what can attendants expect from your classes?
I will be teaching an in-depth course focused on the experience I give each senior. I'll be covering everything from the first inquiry to the delivery of the product. I pride myself in my client experience, and can't wait to share with everyone the ins and outs of my business and how I give each senior an experience they won't forget.
Awesome! I can't wait! If you've been on the fence about attending Click Away, now's your time to register because you can save $60 with promo code MEGBORDERS at checkout. Also, don't forget to hop on over to Meg's Facebook page and say "Hi!" Also, check out the other interviews in this series by clicking here
CREDITS: Photographs by Meg Borders are copyrighted and have been used with permission for SLR Lounge. Do not copy, modify or re-post this article or images without express permission from SLR Lounge and the artist.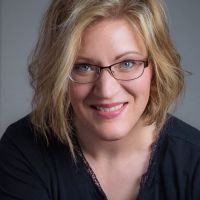 Tanya Goodall Smith
Tanya is the owner of WorkStory Branding Photography in Spokane, WA. Businesses hire her to create story-telling content that sells their high end products and services. She also teachings photographers her unique business model for making serious money as a corporate and personal branding photographer. Find her at
workstoryphotography.com
and
workstoryeducation.com