When I think of Great White Sharks, almost instantly images of dangerous predators with large teeth lurking just beneath the surface waiting to consume some unsuspecting human for its next snack pops into my head. Oh and the theme music to the 1975 movie, Jaws is also playing in the background.
And I am not the only one conditioned to think that way about sharks. Web designer and developer George Probst also had the "Jaws mentality," up until his first dive. In 2006, George's girlfriend broke up with him, so he took the money he was saving for an engagement ring and went off to check an item off his bucket list: Diving with Great White Sharks. After buying a point and shoot camera with underwater housing, George and his brother set off for an adventure of a lifetime – swimming with sharks in Isla Guadalupe. Once underwater, George fell in love again.
"When they come by looking you in the eye, there's this connection," George explains in his interview with Yahoo Screen. "You just get this completely different understanding, and there's a level of respect and awe of this huge animal."
After that dive, George upgraded to a DSLR and began planning more dives. Now 8 years, numerous dives and hundreds of photos later, George is hoping to educate the public about these magnificent animals, and perhaps remove some of the stigma associated with sharks. "You've got tens of millions of these animals being taken from the oceans each year through indiscriminate killing and I'd like them to be around for generations to come so that other people can appreciate these beautiful animals."
This goes to show that there are plenty of fish in the sea.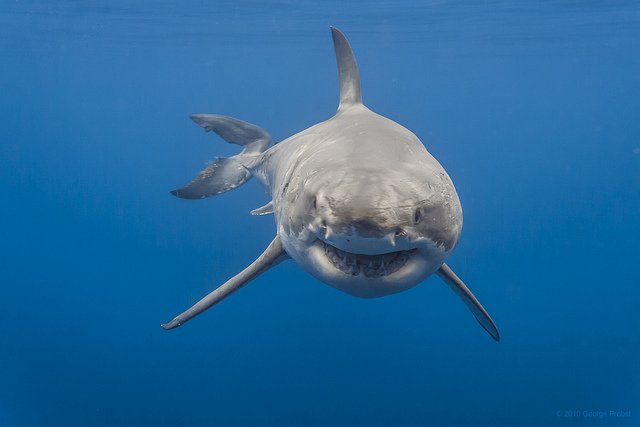 The following interview with George gives us more insight behind his photos and his inspiration behind it. You can also see more of George Probst's work on his Flickr page.
CREDITS: All photographs shared by George Probst are copyrighted and have been used with permission for SLR Lounge. Do not copy, modify or re-post this article or images without express permission from SLR Lounge and the artist.
Hanssie
Hanssie is a Southern California-based writer and sometimes portrait and wedding photographer. In her free time, she homeschools, works out, rescues dogs and works in marketing for SLR Lounge. She also blogs about her adventures and about fitness when she's not sick of writing so much. Check out her work and her blog at
www.hanssie.com
. Follow her on
Instagram