In the 1999 film Being John Malkovich, John Cusack's character crawls inside John Malkovich's mind and assumes the role of the A-List actor. Fast-forward 15 years, John is getting inside the minds of iconic figures in the series Malkovich, Malkovich, Malkovich: Homage to Photographic Masters by Chicago-based photographer Sandro Miller.
The seeds of the series were planted when two years ago when Miller realized that Malkovich looked a bit like Truman Capote. Miller wanted to pay tribute to his mentor Irving Penn, so the actor dawned the stylistic too-long overcoat and crouched  into a makeshift corner. The resulting images was met with overwhelming positive feedback. Six months after the successful shoot, Miller boarded a plane to Malkovich's home in France with a much bigger proposal.
Miller wanted to pay homage to the master photographers that influenced his over 40 year career. Mulling over the 30 iconic images (and two bottles of wine), the pair decided to embark in the endeavor of painstakingly recreating each shot with Malkovich as the subject. "He'd come in and listen to my ideas about what I wanted to do with him, and he never said no," Miller said. "John was always like this beautiful clean canvas that I was allowed to do whatever I wanted to do with it."
The images were recreated with remarkable detail. Miller spent months researching every little aspect of the shots. He hired stylist Leslie Pace, hair/makeup expert Randy Wilder, and set builder Angela Finney to help recreate each shot. Miller wanted the images to accurately pay homage to the original artist and not parody them. "It was their passion for perfection and their brilliance that gave me the wonderful opportunity to recreate these images with John Malkovich."
Malkovich, Malkovich, Malkovich put the photographic talents Miller and  Malkovich masterful acting front and center. Tens of thousands of dollars were spent on elaborate costumes, makeup, wigs and prosthetics to morph the pop culture icon into everyone from Marilyn Monroe to Albert Einstein.  Miller remarks that John was was very involved with the styling of each character, often applying his own makeup and making is own wax nose for the Salvador Dali and Picasso shots. "He allowed himself to be that very, very sensual, sexual woman. The hair and makeup helped to get him there."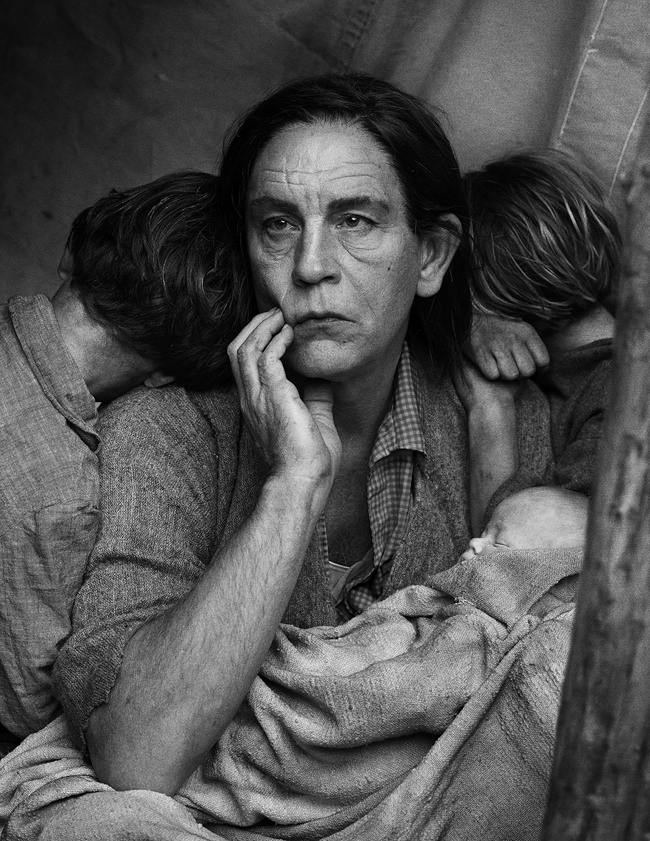 The resulting images are remarkable. Malkovich replicates the subjects expressions and emotions with such precision that some of the images are indistinguishable from the  source material. Miller didn't slave over his computer working in Photoshop; there are full recreations done in camera.
Malkovich, Malkovich, Malkovich: Homage to Photographic Masters, will open at the Catherine Edelman Gallery in Chicago on November 7 and run through January 31. If you can't get enough of John Malkovich, then watch out for the muse's exclusive interview with French publication 7-POST and French newspaper Liberation. Check out more from Sandro Miller at his website.
Which one is your favorite? Leave a comment below.
CREDITS: All photographs by Sandro Miller are copyrighted and have been used with permission for SLR Lounge. Do not copy, modify or re-post this article or images without express permission from SLR Lounge and the artist.
[Via PetaPixel]
Justin Heyes
Justin Heyes wants to live in a world where we have near misses and absolute hits; great love and small disasters. Starting his career as a gaffer, he has done work for QVC and The Rachel Ray Show, but quickly fell in love with photography. When he's not building arcade machines, you can find him at local flea markets or attending car shows. Explore his photographic endeavors
here
. Website:
Justin Heyes
Instagram:
@jheyesphoto