This is a un-sugarcoated look into what life is really like when you walk away from the steady paycheck and enter the world of being self employed. I will be sharing my experiences, thoughts, and anything else that comes my way as I navigate the waters of being a full-time photographer. I also hope to interview other full-time photographers to share their experiences with you as well. To see the rest of the articles in the series, click here.
Making Your Photography Website More Personal
A few weeks ago, I found myself staring at my website and blog in bewilderment – something was not quite right about it. Technically, it looked great, but the content, something was missing, but what was it?
The second my site loaded you knew right away I was a wedding photographer, my portfolio looked good, my contact form was easy to use, but something was still missing. Tired, confused, and honestly in a funk from a long month of wedding planning and shooting, I closed my browser and walked away from my office for a rare weekend off in the middle of wedding season. It took me until about 11pm on Sunday night to realize what my website was missing. It was missing me!
What I realized was my website and blog was too professional, it was cold and unwelcoming. For some reason, when I created my site a few years ago I decided to take the formal business-like approach. Maybe it was because, in my mind, I thought a business should feel like a business when you visit their website. Honestly, I don't know, but I knew that I needed to change my site. I needed to be the open, honest, fun person I am when meeting with clients and shooting their weddings.
I would like to point out that my website and blog are integrated thanks to a Squarespace built website. This means on my site you can see my blog and in the menu jump right to my portfolio, pricing, about me, etc. I chose to do an integrated site because I wanted to make life easy for website viewers. They can see everything under one umbrella vs. two separate sites, a portfolio site, and a blog. Do what is right for you.
My Tips For Making Your Photography Website More Personal
Personal Blog Posts
I love to blog, but my personal blog was not getting the treatment it deserved. All I would do in the past is blog images from recent weddings and sessions, and rarely opened up about myself. The funny thing is if you meet me in person, I'm an open book. I will tell you almost anything you want to know, share stories about life, and be honest with you. I needed to show that side of me to potential clients visiting my website. I decided to start writing posts about me and my love for what I do. I also started to make my wedding photography blog posts more personal, adding more of my thoughts and insights from the wedding into the post vs. just images with little text. What I found is that people liked my more open and honest blog posts and the traffic to my blog has increased tenfold since I started to be more personal.
Showcase Your Blog
In the past when you went to my site, it was hard to find my blog. It was just a small tab hidden in the menu bar. Knowing that I was going to use my blog to let website visitors more into my life, I decided to highlight recent blog posts on the homepage of my website. This does two things: one – it allows potential clients to easily click a link to view recent weddings vs. just portfolio images which are usually your best images over a long period of time. Secondly, it gives potential clients easy access to personal post about me, my business, and whatever I feel like writing about.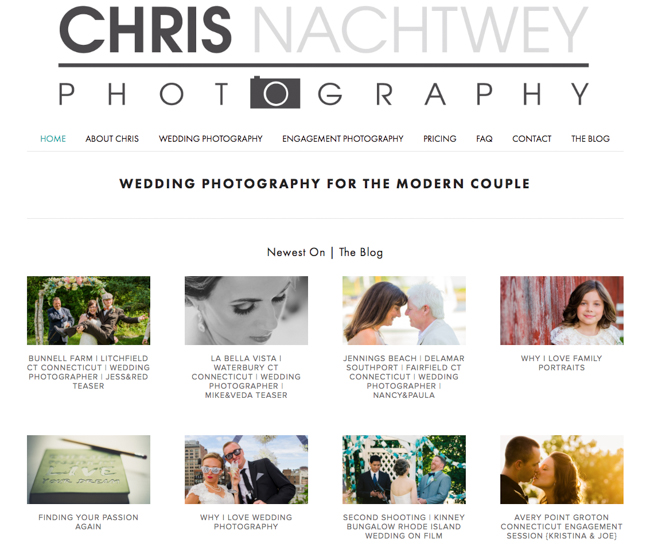 Make Your 'About Me' Section Welcoming
My old about me section was so professional, it honestly just listed what I had accomplished in life and read more like a resume, than an open look into who I am. I decided to make it more personal. I tell people to call me Knock (Nach) because that's what everyone in my life has always called me besides my closest family and girlfriend. I wrote how to pronounce my last name so when someone meets me, they don't feel awkward saying it incorrectly. (So many potential clients always ask me within minutes of meeting me how to say it correctly – why not tell them before they even have to ask?).
I added a quick note about loving the fact that I moved back to the shoreline (my home most of my life), a few short notes about creating 35to220.com and being a staff writer for SLR Lounge. I added that I love to meet people in person and welcome meeting them for coffee and drinks. Finally, I added a list of things that I love, short little tidbits about what I love besides photography. This gives clients a sense of who I am without having to read paragraph after paragraph about me. Since the change I have received lots of great feedback from potential clients and past clients about how it better reflects who I really am.
Add a FAQ Section
When I looked at my old site, I was left with many questions about what I provide wedding photography clients. So I looked back to my past potential client meetings, phone calls, and emails and thought about the most frequently asked questions I'm asked. I created a FAQ section of my site answering those questions, not in a professional manner, but in the manner I would answer them in person. This gives potential clients a look at how I run my photography business, but also my personality. By answering the questions in my normal laid back way, clients know that's probably how I am in person or over the phone. It also helps to cut down the amount of questions I receive in emails, calls, and meetings with potential clients. Instead, they know the answers and we can talk more about them and their wedding day.
Bonus Tip: Make It Look Modern
I have always made sure my website looked modern, up-to-date, and works great on phones and tablets as well as desktop computers. Unfortunately ,many photographers' websites look old, disorganized, and just plain boring. I only say this because I see a lot of photographer's websites from my work here at slrlounge.com and 35to220.com. If I didn't need to look at photographer's sites, I probably wouldn't. I have no need to see what the competitions sites look like, but due to part of my work, I do see a ton of them.
Some photographers websites are great and catch my eye; others are just plain bad, if I'm saying that, think about what a potential client says about websites. We live in the digital world and trust me clients know a good site when they see one. I'm always complemented on how nice my site looks, how easy it is to navigate, and how modern it looks. Do yourself a favor and make your site visually appealing and easy to navigate – clients will thank you.
Conclusion
The changes I made to my site have really helped bring more and better traffic to my website. Visitors are staying longer and viewing more content then ever before, and I've received great feedback from my improved, more personal site. The best proof that the new site is working: I recently booked a client because after reading the new content on my site, they wanted to work with me because they felt like they actually knew who I was and connected with me on a personal level.
You are free to build your website as you want, but when looking at my site as a potential wedding photography client, I didn't honestly know if I would have contacted me. If I was a potential client, I would have thought that my site was professional, but lacking the personal touches that all clients want when booking a wedding photographer or any photographer, for that matter.
Truth be known, potential clients are evaluating you from how they feel when looking at your website. It's kind of like judging a book by its cover, but it's the truth, and we all do that with businesses. If you look at a business website and it's hard to navigate, unwelcoming, or just plain old, we tend to move onto the next business that provides the services we are looking to hire. Remember, your website is setting the tone for your personality with potential clients long before you have the chance to meet with them. Make sure your website reflects who you are, this will lead to more clients that you click with, and a more personal relationship with the right clients.
Till next time, keep shooting, building your business, and embrace the hustle!
Chris Nachtwey
Chris Nachtwey is a full-time wedding and portrait photographer based in Connecticut. He is the founder and creator of
35to220
a website dedicated to showcasing the best film photography in the world. Chris loves to hear from readers, feel free to drop him a line via the contact page on his website! You can see his work here:
Chris Nachtwey Photography