So frequently we find ourselves asking a common stranger what it is they do for a living, not wasting a single thought on how that truly doesn't even begin to define their worth.
Have you ever stopped to ask why a person chose their career path? Was it reckless abandon that led them to their current occupation, or if it was indeed their destiny?
Musicbed thinks it's "time to have a conversation about why we do the things we do" hoping to discover how a creative artist defines success. At some point, we will all reach a threshold that will no longer attach value to the success we have achieved, tying it to dollar signs and binding contracts, forcing us to search deeper within to re-define it's worth. As a full-service music licensing platform, Musicbed brings musical artists together with media creatives to produce empowering and visionary tales. SLR Lounge Premium members can receive a site-wide discount on Musicbed products, click here to learn more.
Their ambitious project, MAKE, a documentary made for Vimeo on Demand, forces us to look beyond our careers and products and ask ourselves – what drives us to create?
How do you define success?
Musicbed sets the stage for a feature-length documentary, highlighting the answer to the aforementioned question – 'why'? Centered around the lives of creatives ranging from photographers and videographers to graphic designers and musicians, all uniting under one common catalyst to survive: passion.
In an interview promoting the documentary, Musicbed CEO Daniel McCarthy stated:
It's time to have a conversation about what drives us to create — passion or success. I think one of the strongest values we have at Musicbed is relationships. The basis of a good relationship is vulnerability. If we want to build real relationships, I think it requires that we get real with people. My hope is that creatives can see the film for what it is, and that they can see themselves in each one of these characters.
Comprised of songs curated from Musicbed artists, the film delineates success in the minds of a group of visionary artists, all striving to answer the question: "what is this moment that you're chasing, and do you really think it's going to fulfill you?".
Read more about Musicbed's inspirational project here and rent 'MAKE' on Vimeo on Demand now. Watch the trailer below: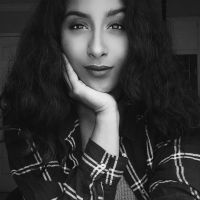 Shivani Reddy
Shivani wants to live in a world where laughter is the cure to pretty much everything. Since she can't claim "Serial Bingewatcher" as an occupation, she'll settle for wedding/portrait photographer at Lin and Jirsa & marketing coordinator here at SLR Lounge. For those rare moments when you won't find a camera in her hand, she will be dancing, eating a donut, or most likely watching Seinfeld. Follow her on Instagram:
@shivalry_inc