It wasn't long ago we featured a segment of #BehindTheGlass by a.a.Productions that featured Brad Smith. In case you missed the post, which is a tragedy because Brad's insight is invaluable, Brad is the Director Of Photography at Sports Illustrated.
This title makes him visual director of one of the most iconic and visually-based magazines to date. As such, his insight into, say, getting hired by a major publication, is on point. He opened his door for #BehindTheGlass and gave a frank, no BS look at what it takes to be hired. In this segment, Smith goes into even further detail about what it takes to get hired at SI, and what the needs of the magazine are that photographers should aim to fill.
The wonderful thing about this information coming from Brad, is that his delivery is so straightforward, with no holds barred. This type of approach really grabs your attention and bring weight to topics he discusses, topics like explaining what's involved in the process of hiring: budget, logistics, personalities, and style.
He stresses, too, the development and evolution of the business, which shows in how many different platforms they use. Having a photographer understand this and provide work that can be used across platforms then becomes a bonus, as they get more usage, and the photographer gets more exposure and pay.
Brad spends a lot of his working life looking at sites, design portfolios, and the likes, and is always searching for new talent. They have a stable of working professional photographers they use regularly and have a relationship with, but he says they are always looking for new ones too, because they'll always need new looks, new styles, and back-ups. So don't despair, there's always an 'in' if you're good enough. Oh yeah, Brad ends it nicely by stressing that most importantly, they're looking for your best work. That's it.
Via: a.a.Productions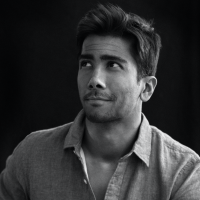 Kishore Sawh
A photographer and writer based in Miami, he can often be found at dog parks, and airports in London and Toronto. He is also a tremendous fan of flossing and the happiest guy around when the company's good.