As video capabilities have become a staple in new cameras, LED lighting has become an attractive alternative to strobes as a multipurpose light source. A new player in the LED game is PRL, a startup bringing to the table another LED option in their Lustra 50.
The Lustra 50 is billed as "the high performance, high quality LED light for photographers" and touts the ability to provide a useful lighting solution for both video and stills needs where 'what you see is what you get.'
PRL is the brainchild of Rudy Pohlert and Pat Ralston, both of whom have come from a film background but saw the need to bring the film and stills world together, but 'properly'. They have between them about 50 years in the film and tv industry and merits include creating the first LED Ringlite and first on-camera LED, and both Pohlert and Ralston told us that they wanted to create something of quality for an affordable price, to fill that void in the market.
Essentially the goal here was to bring to market something that would have color consistency through the dimming range, have flexibility and mobility, and overall high quality. These units don't overdrive the LEDs but underdrive them, and they paired dedicated lenses to the SMTs, and these factors are things that differentiate these LEDs from others.
SPECS
•Hi-power LEDs & engineered optics for optimum results
•Integrated full range dimming
•Dual power option – 11/240VAC or 6-12VDC
•Dedicated accessories – Lustra 50 SofBox & FilterSet
•Portable, ergonomic design – Shoot in studio or on location
•Combines LED surface mount technology (SMTs) engineered TIR optics
The LED panels are a consistent 5600k, daylight color balance throughout their power range and can light a subject at a distance of up to 15 feet.
The panels are available on their own in a kit with their proprietary SofBox, warming filters and diffusing filters, or in a three panel kit with warming and diffusion filters. You can check them out at PRL's site.
You can see the Lustra 50 panel in action in the video below!
We'd like to extend a special thanks to B&H for their sponsorship of this trip, allowing us to bring you coverage of all the best and new from PhotoPlus 2017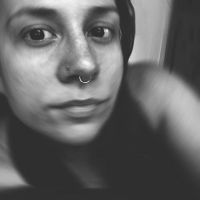 Holly Roa
Seattle based photographer with a side of videography, specializing in work involving animals, but basically a Jill of all trades. Instagram:
@HJRphotos