Italian Photographer Luca Meneghel recently released a new collaboration with artist Norma Nardi. The duo has produced several series of creative portraits merging photography and illustration. The new series entitled Calypso, features a woman who likes to show and hide herself at the same time. She is nude, yet dressed in impalpable gowns. She is magnetic, and mysterious.
photo: Luca Meneghel | drawings: Norma Nardi | make up and hair: Sabine Gutwenger | stylist: Erin Fox | model: Sabrina Delazer @Sam Models | assistant: Melani de Luca
In my recent article 100 WAYS TO BE A MORE CREATIVE PHOTOGRAPHER, items on the list included collaborating with other creatives, studying the human form and getting your hands dirty (just to name a few). I think Meneghel has nailed all three of these. What could happen if you teamed up with another talented artist? What kind of new look could you create? What message could you deliver?
I love the soft look of the painted gown overlays and the subtle hints of the nude female form in these images. The lighting is very nice as well. For tips and tricks on shooting with natural light, check out our Natural Light Couples DVD Workshop.
I do wish they had mixed up the location or backdrop a little. I think that would have added some nice variety.
Check out Meneghel's previous feature, TRENDS: MODELS WITH ILLUSTRATED WARDROBES (NSFW) and his website.
CREDITS: All photographs shared by Luca Meneghel are copyrighted and have been used with permission for SLR Lounge. Do not copy, modify or re-post this article or images without express permission from SLR Lounge and the artist.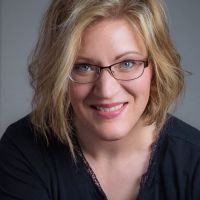 Tanya Goodall Smith
Tanya is the owner of WorkStory Branding Photography in Spokane, WA. Businesses hire her to create story-telling content that sells their high end products and services. She also teachings photographers her unique business model for making serious money as a corporate and personal branding photographer. Find her at
workstoryphotography.com
and
workstoryeducation.com