The Lowel GL-1
We've reviewed the Lowel GL-1 before, but now that we've spent a year with it we wanted to revisit and give a more in depth review of our favorite portable lighting solution.
Lowel GL-1 In Depth Review and Sample Images
Lowel GL-1 Specifications
High powered focusing LED light source
Dimming Range 5-100%
Focusing Range 5:1
90 CRI for high quality color output
3000K color output
1/4" and 3/8" stand mounting options
82MM threaded front element allows you to add a Tiffen 80B to covert to Daylight balance output
Rechargeable Battery
Dim via trigger with feel or by dial for a fixed exposure
Battery life of approximately 1 hour on a full charge
Power consumption 25W
Performance: 5 out of 5 stars
The quality of light that comes out of this light is absolutely fantastic. In front of the LED there's a Fresnel lens which creates a well controlled and well dispersed light. The versatility of the zoom and output makes this light a candidate for almost every troubled lighting situation. We weren't sure what to expect when we first got the GL-1, but we can confidently say it's exceeded our expectations and it now comes with us on every shoot.
Features: 5 out of 5 stars
We gave features 5 out of 5 stars because we have a lot of control over the light. Unlike most portable LED lights the GL-1 gives us zoom functionality (spot to flood) which allows us to light a variety of different scenes. We also have 2 ways to control the output, via the trigger on the light or with the dial on the back. The battery life on the light is also fantastic and I've never been on a shoot where I had the battery run out on me.
Design: 2 out of 5 stars
First of all the trigger and dial on the back are plastic and yellow. This may be a personal aesthetic opinion but I feel like the GL-1 looks more like a construction tool rather than a professional light for photographers. The size and shape of the GL-1 is functional, but it is also an issue because I need to have a dedicated Onebag to carry the light. We have been notified by Lowell that all the areas we've mentioned have been noted and they are working on fixing those issues.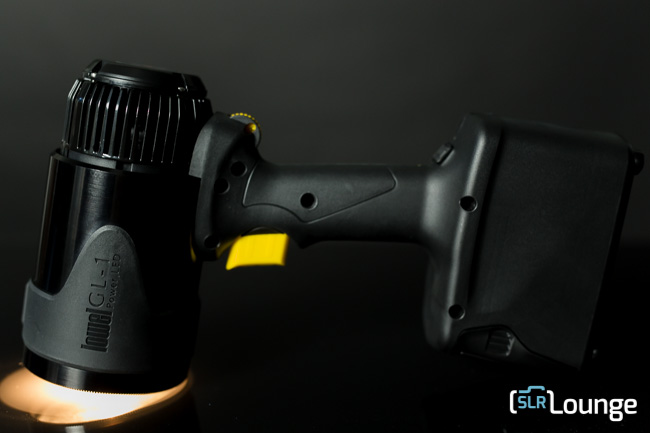 Quality: 2 out of 5 stars
Quality is also an issue with the GL-1, which Lowell is also addressing. The battery compartment door comes loose, which is why I have a piece of blue masking tape holding it together. But for those who have battery compartment issues, Lowell does a great job in replacing those for you. We also had one of the screws inside the light get loose and fall out, which didn't effect the light quality but it was disconcerting hearing a rattling noise inside the expensive light.
Value: 4 out of 5 stars
Overall the GL-1 is a great value, and the only reason why it didn't get 5 out of 5 stars is because of the quality issues we mentioned. The reason we didn't give it 1 out of 5 stars is because Lowel stands behind their product. Anytime we had any problems with the GL-1 (and we use 6 in our studio) Lowel will address the problem and fix them quickly. Lowel standing behind the GL-1 means that this will be a long lasting product, and that also means it's a great value.
Overall: 3.6 out of 5 stars
The GL-1 is not without it's problems, but because of the images we're able to create with this Light, it's still well worth investing in. Overall the Lowel GL-1 is a great product because of it's portability and versatility, be sure to check out some of the images that we were able to get using the GL-1 in the video above.