A memory is hard to define. It seems to be this weird alchemical thing that materializes seemingly from nowhere, triggered by anything and nothing. Sometimes a smell, an old perfume perhaps, or an emotion, like pain or love. And, by pictures, of course. What's brilliant about pictures, moving and still, is that they can let you in on someone else's memory, a memory they can't fully explain, or one you can discover even after they've gone. British photographer, Jason Tilley, discovered a hidden trove of photographs tucked away in his grandfather's belongings shortly after he'd passed, and what was found were memories his grandfather treasured – a first love, taken place in Colonial India. It was a story his grandfather never shared, and never let go of.

First love's are strange creatures. Love is, on a whole. At the start, the excitement hits you like a niacin rush, blushing your skin. Your subconscious already a drug addict craves more of the dopamine hit and you dive in. You get high off his complexity and he finds pleasure in your paradoxical ways. With no consequences and rich in beginner's luck, you share everything, and with each body a blank map you each were like a cartographer intoxicated with the idea of discovery a breath away. You haven't had time to undress the mystique that draws you together, or find the skeletons in each other's closets. It's hard to forget. Could you? Bert Scott, Jason's grandfather, who was also a photographer for the Times Of India in the 30s, was unable.
What is most obvious is how much my grandpa thought of Marguerite and how he kept the negatives separate from all of the others that he saved.

Tilley lets us know, but not the full circumstance of why, 'Bertie' had to leave India in a hurry. It was coming to the end of Colonial India at the time and as with such transitions, they are never smooth. Bertie had to leave his country of birth, all he knew, and most of his possessions, and his first love. Her name is Marguerite Mumford, and she is alive today.
[REWIND: Photographer, Journalist Posts Images to Help Locate Loved Ones After Typhoon]

Tilley found a little blue pocket-book kept separate from the rest of his grandfather's belongings soon after he passed away. In it, the negatives showed Bertie and intimate moments of life with Marguerite, a woman his grandfather had never mentioned to anyone in the family. A woman Tilley describes as the love of his grandfather's life long before he met his grandmother. It was on the back of one photo her name was etched.

Through some journalistic effort, Marguerite was traced and found to be living in New Zealand. Still charming, she is aged and her memory is fading. However she was shown a photograph of Bertie and her response was nothing short of heart warming, "Is Bertie here?' It seemed Bert was in fact the love of her life.
Thoughts
Tilley's story of his grandfather plays a 'The Notebook-esque' role in his absolutely fascinating project called The Beautiful People Blog. It's a space he created to help him document his family history within Colonial India, and the people who are its fabric. Tilley is a true photographer knowing it was his calling from a young age. He is unassuming and his candid writing effectual and romantic. For the whole story and more, please do yourself a favor and head over to his blog. I promise it to be the type of reading that will have the pages turning while your chai goes cold and the cat gets the goldfish.
CREDITS: All photographs shared by Jason Tilley are copyrighted and have been used with permission for SLR Lounge. Do not copy, modify or re-post this article or images without express permission from SLR Lounge and the artist.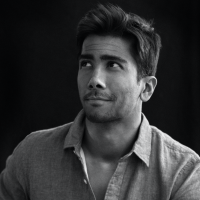 Kishore Sawh
A photographer and writer based in Miami, he can often be found at dog parks, and airports in London and Toronto. He is also a tremendous fan of flossing and the happiest guy around when the company's good.