There has been a rather obvious and sharp increase in photographers and non-photographers using photo-centric applications, and perhaps the more plentiful they become, and the more accessible, the more we'll see yet. We've seen a fundamental shift in how photo editing applications are played with (mobile), and paid for (subscription services that offset a large initial payment), but we're still using the same keys/tools to manipulate the software.
That market, however, has been addressed in the past two years by companies offering modular solutions to controlling software, most notably with Palette, Pfixer, and perhaps the most progressive being CTRL+Console. And now there's another one, called Loupedeck.
Loupedeck, like Pfixer and Palette, is a piece of hardware, a physical itnerface with knobs, buttons, and sliders, and all of which correspond to altering a function/utilizing a tool with Adobe Lightroom. What it aims to do is make the process of editing within LR a more intuitive, precise, and faster endeavor, and looking at the layout you can't help but think it could be all of that. Anyone who spends a lot of time in Lightroom knows it's rather intuitive on its own, but controlling all from a mouse or trackpad isn't always the simplest thing, as the sliders are small, and it can require a meticulous touch. The Loupedeck controller brings a tactile element to controlling Lightroom, bringing the modules off the screen and into hand.
Again, it's worth noting that they are hardly the first to have done this, but looking at the design and the layout, you can't help but think it's certainly the best looking, and seemingly ergonomic/efficient offering. It's certainly less cumbersome that Palette would be, given the nature of its 'building block' style, and appears less dated and purpose suited that the Pfixer option. But then again, it would be, because this was purpose built for this singluar application, whereas Pfixer uses an older MIDI controller with an overlay and software to work.
That said, however, the Pfixer options give you the choice between a full deck and a smaller more portable deck, and let's not forget the Pfixer option is motorized, something which we aren't clear on with this model. However, given the design teams background with Nokia, we'd assume they have a solid working knowlegde of what functional electronics look like, and then there's the price.
Backers of the project can expect to pay $249 for theirs, whereas shelf-units come time they go on sale will be $410. So it's not cheap, but then again neither are the other options. The full blown 15-module kit from Palette will run you some $500 and the Pfixer bundle which comes with the Behringer BCF-2000 motorized unit, software and all, comes in at $359 last I checked. So Loupedeck fits right in the middle.
Also, I should let you know that I spoke to Jeff Chow, the man behind CTRL+Console that lets you control the LR Library and cull and sort from an iPad (wirelessly), and he showed me the Develop Module a week ago that's in the works, and it works pretty well. If you've got an iPad this would be a MUCH less expensive option, and the GUI is good. So what do you reckon? Will this make your Christmas list?
You can find out more here.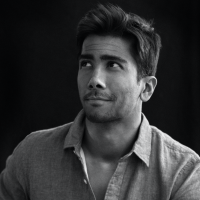 Kishore Sawh
A photographer and writer based in Miami, he can often be found at dog parks, and airports in London and Toronto. He is also a tremendous fan of flossing and the happiest guy around when the company's good.