"SLR Lounge Artist Feature" articles highlight the top photographers in the world. This article features Lorraine Charlecraft of Zoo Studio (Brisbane, Queensland, Australia). Lorraine is an award-winning pet portraiture photographer and the director and photographer of Zoo Studio. Read on as Lorraine talks about her experience being a pet photographer. As well, she gives her best tips for better pet photography.
Thanks for taking the time to talk with us, Lorraine! What do you love most about being a pet photographer?
My favorite part of being a pet photographer is that I am blessed to meet all these different fur babies and capture the essence of their personalities … It's an honor to get puppy licks or kitty cuddles from each of them, especially when those who are timid or shy come out of their shell. After all, when pets are surrounded by people that love them, they will come alive! And it's a wonderful feeling being able to give back to clients what they deserve.
How did you get into pet photography specifically?
I always loved photography but never thought my photographs were good enough. Moreover, I loved experimenting with cameras and seeing what kinds of photographs I could take. How the light would differ in the photograph at different times of the day. That type of thing. I initially got into photography with a 'real camera' when a very good friend of mine said, 'We're going to Melbourne Zoo, you're coming along with me, and you're using my old Nikon D200!' So off we went taking photographs of all the animals at the zoo with her D200! I was hooked!
From the zoo to Zoo Studio! How perfect! Where do you look to for artistic inspiration?
I love to watch my own dogs play together. It's not just their playfulness I watch. Rather, I focus on their mannerisms, the way they communicate with each other, and the way they talk to each other. Animals are amazing creatures! To actually sit and be immersed in watching them is something I really enjoy.

From an artistic perspective, I love to look at nature, the zoo, and wildlife parks. When I get the opportunity, it's amazing to see what nature does and how animals interact. Have you ever watched a gorgeous bat fly and looked close enough to see if there is a mother and baby? It's truly precious!
For those looking to improve their photography, what tips can you offer for better pet photography?
Generally speaking, have fun with the fur babies! More specifically? Well, here are 5 tips for better pet photography:

Let them be who they want to be. That way you'll usually capture their fun side.
Talk to their human family. Find out what they love and adore the most about their fur babies. Overall, really listen to the things they tell you! When you do, it makes it so much easier to get to know their fur babies when photographing them.
Don't force them to do something they don't want to do. Again, make it fun! If you're trying to get an action shot and it's not happening? Simply move to another shot. Later, come back to those action shots. It will help them to relax.
Give short breaks. I often see people trying to take photograph after photograph after photograph. Allow the animal to a break. Be careful, or they will tire out!
Finally, have treats! Treats can work for even the most shy dog! However, cats don't always come out to eat in new places. Therefore, give the opportunity for their human family to hold them and make them feel comfortable. Treats and cuddles are the best 'therapy' to help capture a pet's personality.
You can see more of Lorraine's work on the Zoo Studio website, and you can connect with her on Facebook too! Lorraine has  a strong passion for animal welfare as well; check out the Zoo Studio Foundation's work here.
Thanks for reading and be sure to check out the latest SLR Lounge Award winning photographers here. Don't forget to submit by the November 30 deadline to be considered for SLR Lounge's November 2018 awards competition. And, finally, remember that anyone can sign up for an SLR Lounge account for free and submit. However, Premium Members are able to submit up to three photographs each month!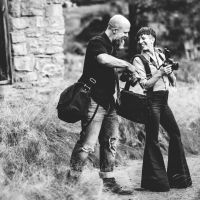 Amii & Andy Kauth
Amii & Andy are a wife and husband team of rad portrait and wedding photographers (Sunshine & Reign Photography) who absolutely love life and are generally just stoked! Yeah! When they aren't photographing or writing and teaching about photography, you'll find them off on a seriously legit adventure with their little ones, lifting weights in their garage, training jiu-jitsu, refining their archery skills, or surfing every chance they get. And on the rare chance they escape off on a "date night"? Yep! They'll find a wedding to crash (true fact). Website:
Sunshine & Reign Photography
Instagram:
@sunshineandreign