Like smooth, salted butter being spread over a warm chargrilled sourdough, eyes hungrily drape across a deliciously consistent feed. Design theories of color pattern, leading lines, depth of field, negative space—they all ring bold and true as they marry before you.
I've asked 5 Instagrammers (including myself, because, why not…) to share their brain nuggets on how they've delved into the task of feed consistency
1. @grazfed
"Being consistent relies heavily not only on the subject but the way you edit photos".
Grazian's feed is as organic as his name, it really "fed" your aesthetic appetite and sated your inner hype-beast (and a splash of Conde Nast traveler he might also add). His trick is to set up a bunch of guidelines to follow at the very beginning (a feat that takes a lot of time and dedication) and create a niche in how you shoot. Whether your rules consist of a specific color, types of angles to stick to, or even location, the most important thing to consider when diving into this is dedication. No matter how awesome a photo is, if it doesn't adhere to the guidelines you set for yourself, you should not post it. A pro-tip that I've actually learned from Grazian almost a year ago is to plan out your feed. Use third party apps to map out future posts and see whether or not it will work with the rest. All in all, Grazian has definitely been an A+ student, graduating at the top of his #killinthegame class. Three things to take away from his feed: quality over quantity, cohesiveness, and tasteful color scheme.
2. @brittiepoo
"I love a minimalistic aesthetic. I hate when things are shouting at you and you don't know what to focus on".
Brittney's feed is as engaging and whimsical as her. From her knee-slapping punny captions to the way she plays with monochromatic space, you get a very light, effortless feel going through her posts. It is an expression of herself and is a more personable approach to feed consistency. Your eyes are led by pops of color, lone subjects, and focal points at every corner. If you take a look at her Instagram (featured in the photo), she toggles fashion posts with food posts, creating breaks for the eyes to rest on. Product shots are easy ways to manipulate white space and add a resting place for your line of vision to go towards. Also, another great way to keep a theme going is to create a story with your framing. The cross in the midst of the 9 panel square are all related and connected to one another, weaving a wonderful tale of a relaxing day at a local coffee shop.
3. @indaheart
"It took me a while, but you just have to find your style first".
A fashion forward blogger, Indah is always finding new ways to kill the game – I almost feel like a talk show host introducing the contestants of the new season of The Bachelor. But alas, I kid you not, Santa wants his slay back because Indah is on *fire emoji*. Her Instagram feed, as of late, now sports the occasional polaroid picture to add 'more' to an already effortless profile.
When scrolling through her feed, you can see it evolving over time as she keeps finding new ways to reinvent herself, similar to how she reinvents articles of clothing thrifted from various shops around LA. It is true, as she says, it really is up to how you stylize yourself and from there you can take creative liberties to explore your boundaries.
One thing she does that's worth taking note of is how she can keep a color palette going but still change up the accent color without you even noticing. She slowly introduces a pop of color that spans a couple rows and then dyes into the next color while keeping the rest relatively monochromatic. For those who are struggling with monochromatic feeds, it is not impossible to integrate strong, bold imagery as long as the color is reintroduced in subtle ways in surrounding posts.
4. @lovetram
"I'm a minimalist in general and prefer to see less distracting designs, but I like the subtlety in textures".
Let's take a bite on the foodie side as we follow Tram's stomach through her feed. One thing that stood out to me instantly was how she could create depth with a flat lay. It's one thing to take a standard aerial shot of food on a clean tabletop, it's been done time and time again. Tram took it to the next level (see what I did there) and added more dimension by shooting the table, the chairs, and as well as her shoes. Her shots are playful and makes the food look fun and exciting to eat. Slight tilts of the trays and tables breaks the space in a bold, but sutble way, making her posts look asymmetrically attractive. Even the placement of these images are placed in an irregular pattern in the 9 square frame, giving the eyes a breather and time to reflect on the images individually before noticing the similarities.
5. @xjenn3
"I have no *insert colorful jargon here* idea what I'm doing".
All jokes aside, I decided to showcase a previous feed idea of mine where I posted 3 similar images side by side. This is another method that works for a lot of people, and in my opinion, an easy one to keep consistent. Every row is a different day, different lifestyle, vibe, or style, so for fickle people such as myself, I don't have to commit to any one theme. It makes it visually pleasing, like layers of a cake, and not as time consuming, perfect for a busy bee such as myself. It also has to do with the content you are trying to push.
Since I am a photographer and my feed is dedicated to promoting a diverse array of my work, it proves to be very challenging keeping to a single color scheme or look when each shoot is very different from the next, and I believe this will be true for many of you reading this. If you look at my feed now, you'll notice I've all but scratched that idea a few months ago. My reason for switching was that in order to pull this off, you would have to shoot a location in 3 different ways to make it look unique and captivating apart from the other 2. If you post 3 images from the same spot without changing the feel and emotion drawn from it, it is easy to disengage your viewer due to the similarities in each photo.
Special thanks to my fellow instagrammers for sharing some tips about their feed. It is a journey to discover one's style, so I hope these accounts inspire you to take your first steps forward.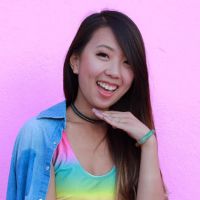 Jennifer Wu
Jennifer is a photographer and graphic designer out in Los Angeles. When she's not shooting fashion bloggers or creating social media content for brands, she's usually bombarding her snapchat with too many photos of her adorable cat or coming up with terrible puns that her friends don't find a-meow-sing