Longtime editorial and commercial photographer, Zack Arias, has done a lot of educating on lighting techniques consisting of a single light. The minimalist approach can be a wonderful thing, but sometimes a job requires a more elaborate lighting kit. For those scenarios, Zack Arias packs a full array of lighting equipment to take on location which fits into two bags weighing in at a somewhat hefty, though not totally unreasonable, 100 pounds.
Here he shares what he uses and why. This video should be a great help to photographers looking to invest in their first lighting system and wanting something seamless.
Over the years, Zack was on the hunt for a lighting system that could work together cohesively and cut down on peripherals, like a bag full of Pocket Wizards and their corresponding cables. He found the answer to most of his lighting concerns in Phottix's lighting system consisting of both strobes and hot shoe flashes. His lighting kit contains a total of five lights:
The Mitros Plus are fairly standard TTL hot shoe flashes that have a built-in Odin transmitter/receiver. The Indras are portable TTL strobes with high-speed sync that are powered by a battery pack. They were among the first smaller-brand alternatives to arise after Profoto's B1 strobes entered the marketplace and the concept of battery powered location lighting captured hearts and created a desire for similarly specced products at a lower price point.
The pivotal piece of kit that brings it all together for him, modifier-wise, is an S-Type bracket for speed lights with a Bowens mount. The Indra strobes have a Bowens mount, and with this bracket, all of his lights can use the same modifiers. The bracket also has an umbrella holder and can be used to mount a bare flash on a light stand.
One way that he cuts down on weight in his kit is by utilizing a Manfrotto 420b Combi Boom Stand which conveniently converts from an ordinary light stand into a boom stand without having to pack a separate boom arm.
When using a boom, you need a counterweight, which is commonly a sandbag. Nobody wants to carry heavy bags of sand around with them though, so Zack buys empty sandbags and assigns them the multitasking duty of containing smaller essential grip items like clamps and Superclamps which provide enough weight to balance a hot shoe flash. For the strobes, he'll use the same sandbag and add the Indra's battery pack to the counterweight.
Check the video for his complete lighting, modifiers, grip kit, and bags, and if you'd like to see more content from Zack, visit his YouTube channel.
Source:  iso1200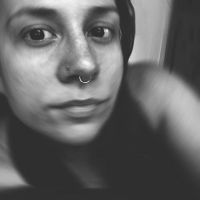 Holly Roa
Seattle based photographer with a side of videography, specializing in work involving animals, but basically a Jill of all trades. Instagram:
@HJRphotos