I've often lamented that as a man, I'm to some degree, an ego covered in skin. It's something I've just come to accept, that barring some Monk-like devotion to self-development in the mountains somewhere, that's how it'll be. The affliction, however, doesn't really just affect men, because there are certain occupations that seem to breed an ego. Fighter pilots (warranted), investment bankers (not), and photographers (maybe), to name a few.
This is problematic because once we reach a certain level of ability or popularity, many photographers feel there is little to be learned from anyone else, and even if there was, it would cause a bit of light bruising to admit a shortcoming – it's part of the reason many photographers become autodidacts in private. Without sounding trite, believe me when I say, as a photographer, you've always got something to learn. You just may have to accept that it really is the little things, and you may have to gorge on more information to find your 'a-ha' moments – but they're there, and good educators are the ones to bring them to you – educators like Lindsay Adler, for example.
Lindsay Adler, in all likelihood, is a name you're familiar with if you've been around the photography education circuit for even a meager amount of time, and that's simply because she's good. Lindsay, much like our very own Pye, has a way of taking a subject matter of some degree of familiarity, and revealing much of it you didn't even know you were unfamiliar with, and then breaking it down into easily digestible morsels. This is very much the takeaway I assume many professionals will get from Lindsay's latest course, and for those not yet a pro? It will help you get there.
It's all about nude posing, and fine art nude posing to be precise. Make no mistake, this is an art made up of many arts, as you must have the artful vision, the ability to execute it, and be versed in the art of engaging with a model in perhaps a most vulnerable state. It is, in fact ,these very facets that Lindsay continually addresses in each section of the 3 hour+ DVD, not simply showing what the shots should look like, but giving you insight into the details on how to manage your shoot from each angle. This is truly where the value lays, and you can't really get that from scattered sources like you can from a formal and comprehensive, theoretical, and executional structure.
Lesson Structure / Format
What Lindsay is essentially doing is showing you ways to honor the human form and do it through your own creative lens. This can only really be done with a core understanding of fundamentals that include posing, lighting, lens choice, planning, and not least of all, communication. As such, there is a large emphasis on the core development of these elements and then focus on using that development to free your expression. Within the package you'll find:
Part 1
01 – Introduction / Posing Fundamentals
02 – Five Posing Tips
03 – Five Cautions
04 – Five Go-To Poses
Part 2
01 – Lighting Essentials – The Fundamentals
02 – Lighting Essentials – 10 Go-To Lighting Setups
03 – Lighting Essentials – 10 Go-To Lighting Setups (continued).
Part 3
01 – Creativity
02 – Creativity Continued
The video content as shown above, is broken into three sections, and each section further includes numerous videos no longer than about 45 minutes each, making them easy to view in segments, and return to. They are MP4 format so you likely already have the required software to view them even if your computer is a relic.  The added benefit of that is it also makes them easy to transfer onto a mobile device if you want to have them with you for reference on a shoot, or to take in on a long commute.
The attention to detail is certainly appreciable, as you're provided with camera settings, what gear is being used and guidance as to how to use it, what lighting settings are, and the list goes on. It should be said that Lindsay is using Profoto D1 Air 500w lights most of the time and seems to favor the Wescott Zeppelin in the 47 inch variety, so the gear isn't cheap, but it is good, and you may have less expensive alternatives.
Throughout the course, you're provided with Lindsay's five favorite poses and a whopping ten fundamental lighting set-ups. Then, of course, once the fundamentals are thoroughly gone through, always with a live nude model to demonstrate, the class extends to the creative side. It is here Lindsay begins to show you different ways to take those fundamentals and bend the rules with them to create looks that are unique, and uniquely you.
Additionally you're provided with two highly useful documents that will steepen your learning curve, and keep you on track when you actually begin to shoot. You'll get a detailed model prep sheet which addresses pertinent information for the model to know and assess beforehand, such as grooming suggestions, compensation, suitable attire, location and contact info, if there will be food on set, and the suggestion of a model release to be attached.
Secondly, but of equal importance, is the fine art nude photographer's checklist. In fact, this checklist alone, that addresses the environment, model comfort, legal matters, and prep, is incredibly informative and will actually help you to think and behave as a seasoned professional.
Thoughts
We're at a point in the information age, where information is all at once plentiful, and plenty of it rubbish. Just as the factors of production have been brought to the masses, so the masses can create and often create masses of crap. It takes time to sift through the rubble to find value, and there's a lot of value to be had here.
I've never quite seen a tutorial on posing fine art nudes, or perhaps any nudes, that is as professional and teaches that professionalism as this. There's so much to pick up that's not even said and simply viewed or there between the lines, such as how Lindsay interacts with the models, how she directs them, speaks to them, how she delivers praise, and how she delivers critique.
She speaks about figuring out the right words to use to refer to body parts; how keeping the studio warmer than you like it because the model has no clothes (and plus it may cause goosebumps which are a nightmare to edit in post); how body pressure affects the folds and form of a figure, and much more. This is the kind of information you're really paying the $249 price tag for because it's not something easily brought across in text, or by one who's not done it many times over with success. This kind of learning experience is unusually difficult to buy – but here you can.
You can find more from Lindsay on her site. Also, if you're interested Lindsay is offering a free Fine Art Nude Dancer guide here.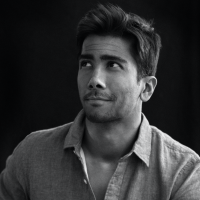 Kishore Sawh
A photographer and writer based in Miami, he can often be found at dog parks, and airports in London and Toronto. He is also a tremendous fan of flossing and the happiest guy around when the company's good.