Whether it's a simple dodge & burn job or detail enhancement, Lightroom's Local Adjustment Brush allows photographers to fine-tune the details of their image without having to jump into Photoshop, creating a smooth and effiecient workflow. But why exactly does Lightroom allow you to move Brush edits when images vary in consistency from one shot to the next?
Scott Kelby often gets asked this question and has finally given us a legitimate reason as to why this feature exists.
How to apply the Brush edit to a batch of images
In the video he uses a sample image that requires a bit of dodging on the model's scarf, an action that needs to be carried over through the set of images. Now, Lightroom's batch processing capabilities are remarkable, allowing photographers to complete their culling and post-production edits in a reasonable and efficient manner, but does this same functionality apply for Local Adjustment Brush edits? We built our SLRL Preset system with this idea in mind by creating simple one-click Local Adjustment presets to streamline your post-production workflow.
Although the scarf exists in each image, it moves ever so slightly due to the framing and composition. First select all the images you wish to apply this Brush edit to and make sure Auto-Sync is on so it is applied to the batch. Paint over the section you wish to apply the adjustment to and press 'O' to delete areas you may not have wanted to paint over. This adjustment is now applied to all the images in the batch, however, not in the correct location as each image differs. Simply move the Local Adjustment Brush edit and add or subtract where needed.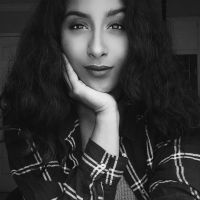 Shivani Reddy
Shivani wants to live in a world where laughter is the cure to pretty much everything. Since she can't claim "Serial Bingewatcher" as an occupation, she'll settle for wedding/portrait photographer at Lin and Jirsa & marketing coordinator here at SLR Lounge. For those rare moments when you won't find a camera in her hand, she will be dancing, eating a donut, or most likely watching Seinfeld. Follow her on Instagram:
@shivalry_inc