The introduction of software updates can be a disruptive force in the workflow of creative professionals. Sometimes they are needed to improve performance and other times they reflect a new vision of the company providing it; in Lightroom's case, it's both.
Adobe's new approach is intended to increase the interconnected experience of its product across apps and platforms. This radical refresh means that, for many photographers, it's time to be reintroduced to an old frenemy. But, lucky us, Jesús Ramirez has done the introductory leg work with a free tutorial on his Youtube page. Let's dive into the new Adobe experience

*Note: This tutorial is for the cloud-based Lightroom CC.
There are two ways to use this tutorial. The first method is to use the full-length video down below, but Jesús has also provided a playlist on his YouTube Page to guide through the course chapter by chapter. Here is an index of the tutorial.
Tutorial Chapters
01:00 – Importing Photos
05:32 – Interface and Lightroom Search
10:17 – The Light and Color Panels
20:23 – Effects, Detail, Optics and Geometry Panels
29:01 – Crop, Heal, Targeted Adjustments, and Presets
36:28 – Exporting Photos
Lightroom CC Highlights
Interface and Lightroom Search
The import interface offers a large, clean, visual interface. Upon import, your images are upload to the cloud so that you can access them via the web-based version and your mobile apps.
One useful feature is that you search your image via keywords even if you haven't assigned any to your images. The service will analyze your photos to find what it "thinks" matches your keyword; helping you sort and locate your desired pic more quickly.
The Light and Color Panels
Sorting photos is fine and dandy but, the real question about the Adobe CC is, what does it offer in terms of editing ability. You'll find the controls minimalistic in design but, intuitive.
Exporting Photos
The exporting feature is streamlined, giving you a variety of options for optimizing your images including file type and size. If you'd like to share your images to Facebook, you'll need to log in, but thereafter, uploading them should be a quick click away.
Many of us don't enjoy change, but Lightroom CC is here and it isn't going anywhere. If you are Creative Suite subscriber with no better alternative, I'd encourage you to find out how to make the most of the new features.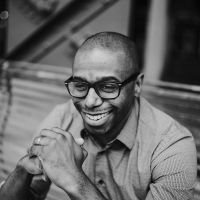 Wendell Weithers
Wendell is based in Atlanta where he shoots events, portraits, and food photography. He also supports his wife Andrea as she runs their cake design business, Sweet Details. Instagram:
Wendellwphoto