Many Lightroom users operate with an understanding of the straightforward aspects of the program but don't delve into the more complex settings, instead relying on purchased presets for adjustments that can be applied with a click without actually knowing what that click is changing.
Nathaniel Dodson of Tutvid has offered up a walkthrough on the process of creating a stylized look in Lightroom without relying on someone else's presets. Of course, if you copy exactly without experimenting, you may as well have used a preset. But, this video teaches the method behind the look so that you can create your own. We'll walk through a few of the more interesting Lightroom panels Nathaniel uses, and you can see his full process in the video at the bottom of this page.
Many workflows begin with the top module in Lightroom and work their way down, but interestingly that isn't what Nathaniel demonstrates. Instead, he scrolls all the way to the bottom to begin – starting with the Camera Calibration panel.
CAMERA CALIBRATION
The Camera Calibration panel is one that many beginners don't consider exploring as they've already made so many changes to their image before they'd get there in a top-down approach, but it holds immense power over the outcome of your image.
Imported photos are set to the "Adobe Standard" camera profile by default, but this tends to an flatten image's look and renders colors differently than the camera manufacturer intended. Choosing a different profile before you do anything else can significantly alter the look and feel of your image. Fuji shooters, in particular, should start here, as this is where you can select your camera's inbuilt film simulations.
After choosing a camera profile, Nathanial tweaks the sliders in this module. Here you can control overall tones in the image by adjusting hue and saturation sliders for red, green, and blue tones individually.
BASIC
While this isn't an 'interesting' panel, it is an important one, and in the particular workflow shown in the video, it's worth noting that sometimes it's best NOT to produce something that looks finished using these sliders, instead leaving the finishing touches to the Tone Curve. Nathaniel's image appears much too dark when he's finished making adjustments in the Basic panel, but it's because he has a plan for the next step.
TONE CURVE
Here is where the too-dark tones are remedied. By first opting to use a point curve rather than parametric (see this post for an in-depth look at this) and pulling up the bottom left corner of the RGB curve, the tones are lifted and the blacks are brightened and "matte-ified" a bit. See the video for more on this, including using the color curves to tone the image.
HSL SLIDERS
Here is another chance to fine-tune colors. Skin tones can often take on a too-saturated look, becoming unattractively red or orange, and HSL sliders are a great way to achieve a more natural skin tone.
To see it all, watch the video below! Don't forget to experiment and come up with your own unique looks, and when you come up with something you love, show it off in our Facebook group and Critique!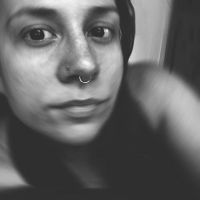 Holly Roa
Seattle based photographer with a side of videography, specializing in work involving animals, but basically a Jill of all trades. Instagram:
@HJRphotos