Learn More About the Lightroom 4 A-Z Guide
The following tutorial is Lesson "Understanding the Lightroom 4 Catalog System" from Chapter 1 – 4 from the Lightroom 4 A-Z DVD Guide. We will be releasing 1-2 tutorials per week from the LR4 A-Z DVD. The full DVD including 130 tutorials and nearly 14 hours of Lightroom 4 training is available in the SLR Lounge Store.
In this Lightroom Tutorial
Before we get into Lightroom, it's important to understand how the Lightroom Catalog System works. Lightroom stores the changes you make to a photo separately from the photos themselves, making lightroom a non-destructive editor. In this video we're going to go more in depth on how the Catalog System works. You can also read the article below.
Understanding the Lightroom 4 Catalog System
Understanding the Lightroom 4 Catalog System Written Tutorial
The changes you make to a photo in Lightroom (metadata, cropping, develop adjustments, etc.) references the images that are on your hard drive, and what you're actually seeing in Lightroom as you make your adjustments is simply a "preview." When you change or edit the image in Lightroom you're only changing this preview, and Lightroom is showing what the images would look like if the settings chosen were actually to be applied.
From a file management perspective this is important to understand because the Lightroom Catalog is simply referencing the images at their existing location. This means that if the images were to be moved or deleted outside of Lightroom, it will cause errors within Lightroom as it wont know where the referenced files have gone. To fix this problem, it requires that you point Lightroom to the new image location.
For this reason we recommend you keep the catalog and your original images in the same parent folder. This lets Lightroom reference the photos for the catalog in the same parent folder, and allows you to move the photos and the catalog without breaking any links.
Remember, because the Lightroom Catalog is only a file of the changes you make to your photos, backing up the catalog does not actually back up the images themselves, just the catalog data of the changes made. However, Lightroom does have an image backup feature during the import of your photos that will back up the original files.
If you're shooting a lot of corporate events or weddings we recommend that you make a separate catalog for each event. This prevents each Lightroom Catalog from getting too large and cumbersome to deal with. When catalogs become large, not only can it cause Lightroom to slow, it can also make it difficult moving catalogs and images from computer to computer.
Efficiency and the ease of being able to move catalogs from computer to computer are a major concern for larger studios. But, for those who shoot more casually, 20-30 images from time to time, it would be more beneficial to keep all your photos in one catalog file. This makes it easier to organize and view all of your photos at once.
Conclusion and More Info
In conclusion, remember that the Lightroom Catalog is simply a database or file with all of the changes made to the images within. It does not actually store the images themselves. In addition, the benefit of keeping each shoot or event within a separate Lightroom Catalog is that Lightroom will typically run faster; and from a file management perspective it's easier to move these catalogs and images around. The benefit from having all of your images in one catalog is having everything in one place, making it easier to organize, view and develop all at once.
The Lightroom 4 A-Z DVD Guide will turn any Lightroom novice into a complete master of Lightroom 4 in no time! The DVD which can be played on a Mac or Windows PC includes the following:
– 130 Video Tutorials and nearly 14 hours of content!
– Over 6 hours of tutorials dedicated to developing techniques
– Full Menu System for easy navigation through the tutorials
– Bonus DVD Content that includes Advanced Lightroom 4 Techniques
– Full HD 1080p Resolution for all Video Tutorials
– On-screen Shortcut Tooltips for Lightroom 4
– Exercise Files + Final Catalog so you can follow along during the tutorials
– No Advertisements
Related Product Offers Recommended by SLR Lounge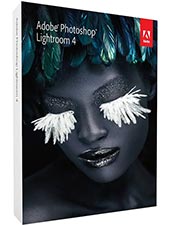 1) Purchase Adobe Photoshop Lightroom 4 through Amazon. Click any of these links to take you to the offer.
Click here to purchase Adobe Lightroom 4 from Amazon.com
2) Student and Teacher Editions of Adobe Photoshop Lightroom 4 is available through the Adobe Educational Purchasing Site.
Article by
Post Production Pye
Managing Editor