Well, there have been rumors about it for a little, and then the leak occurred just days ago, so Leica have officially peeled back the plastic wrap of their new instant film camera, the Sofort.
There's no denying the mass appeal to camera companies to have instant cameras in their line-up, given the somewhat unprecedented success of Fuji Instax, which dominated camera sales last Christmas. That Leica should be the brand to follow Fuji, though, is perhaps both surprising and sensible. Leica is a solidified brand but perhaps just niche enough to make a splash here, and the Sofort seems set to do so.
The new, rather attractive instant camera will come in a bevy of colors, including mint, white, and orange. There's no doubt that this is by far and away the most aesthetically pleasing instant camera there is. Featuring the Leica Red Dot, and slim, square form factor, it looks like the Instant camera you will actually not mind walking around with if you're fashion conscious. But the price is going to be a sticking point for some.
Coming in at $299, it's not cheap, but then again it's a Leica, so that's a given. The problem is that when you look at the stats here's what you'll get:
60mm (34mm equivalent) Fixed Focal Length
Aperture f/12.7
Shutter speed: 1/8 to 1/400
Rear OVF of 0.37x
Integrated Flash
Uses Leica Instant Film & Fuji Isntax
8 Operation Modes: Macro, Bulb, Automatic, Self timer, Party & People, Sport & Action, Double Exposure, Selfie
The Sofort will be first seen by the public at Photokina, which is around the corner, but they will come to the rest of us in November when they'll be available and shipped along with a color film pack, a BW film pack, and a double color film pack of 20 exposures. Again though, Fuji film will work.
Looking at it on its own the specs seem nice, if not groundbreaking, but certainly nice. But the problem is that if you're familiar with instant cameras you'll know that those specs pretty much mirror the specs of the Fuji Mini 90, which is in itself a handsome camera and comes in at half the price of the Leica ($149).
That said, it's hard to deny the lure of the Leica brand for some, so expect to see these distinct and pretty cameras in relative droves come new year.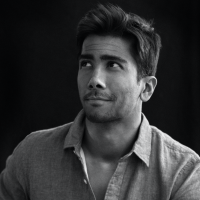 Kishore Sawh
A photographer and writer based in Miami, he can often be found at dog parks, and airports in London and Toronto. He is also a tremendous fan of flossing and the happiest guy around when the company's good.