I have been a fan of Langly camera bags ever since I first reviewed their Decoy bag a while back. In the last month, the company announced two new bag offerings; one of them is on my review table today: The Simple Bag.
I always wonder how much detail I really need to put into this section of our review template when reviewing bags. At some point, once you have seen one bag, you have seen them all. So, just as you would expect, the Simple Bag performs just as you would expect any bag to perform. It successfully protects and stores your gear for travel.
However, how you actually use this bag is somewhat different from your average camera bag. When you unzip the main compartment, you are greeted with the Simple Insert (comes with the Simple Bag but is also available for purchase separately). Then, to access your gear, you must unzip the Simple Insert, which houses the more standard camera bag compartments.
I did find the zippers on this bag to be a little hard to get moving initially. Once you get some movement, they would zip or unzip easily, but getting that initial movement was sometimes difficult. I have had this happen with other bags, and usually that goes away over time, but it is worth noting.
Overall, as I mentioned above, the bag functions and performs as you would expect. Nothing extraordinarily great or flawed. For that reason, I am giving the Simple Bag a solid 3 out of 5 stars for performance.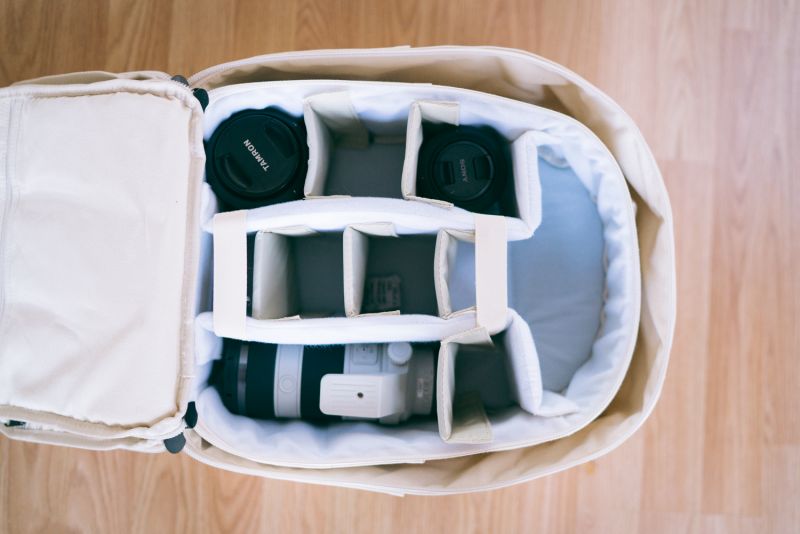 For a bag that has 'Simple' in its name, this bag sure is packed full of some great features. I was VERY happy to see a large laptop pocket capable of carrying my 15″ Macbook Pro with no problems (if you recall, that was one of my biggest *wishes* for the decoy).
Second, the Simple Insert itself is a pretty cool feature (assuming you don't require fast direct access to your gear). All you need to do is remove the Simple Insert, and that main compartment becomes an open area, able to carry clothes, an extra coat, food, whatever you want. It gives this bag a hint of versatility that most camera bags can not come close to.
In addition to handles on the top of the bag, the Simple Bag also comes with back straps for use like a regular backpack. Again, we are hitting on that versatility bit I mentioned above. The bag also comes with several pockets, pouches, and compartments to hold everything from batteries to lens filters.
The features may not be revolutionary or particularly exciting, but they are useful, well thought out, and well executed. For that reason, I am going to give the Simple Bag an above average 4 out of 5 stars for features.

Design is always a matter of opinion; do you like the style, materials, etc. In the case of the Simple Bag, I am honestly torn. Part of me really likes the sort of boxy design that Langly decided to go with for this bag, and another part of me isn't so sure.
Beyond that, though, the pockets are in good places, the compartments are large enough, and the versatility of the design allows for multiple configurations and uses. These are all things that really speak to the quality of the design.
Then there is the style of the bag, which falls under the design category of this review. The version of the Simple Bag that you see here is the white version (there is also black and green), and it has a very feminine feel to it. I asked my wife what she thought when I first pulled it out of the box, and she also said it was very feminine.
I posted it to my Facebook account, and three or four women commented on it wanting to know where they could find it or who made it. I will say that I like the look and feel of the bag, but it's probably not one that I would choose to carry my gear in simply for the reason that it is a little more on the feminine side. If I had received a black version, I think that doesn't give off quite the same feminine vibe.

If there is one thing that you can come to expect from Langly, it is that the bag will be really well made and of a higher quality than your average camera bag. The Simple Bag is no different, made out of military grade canvas, quality leather accents, and quality metal snaps.
You may not be a fan of the style or the design, but there is no denying the quality of this bag. It may be Simple, but it is a high-quality bag. Higher than many that come through my office, and for that, I am giving the bag a full 5 out of 5 stars.
So, what is the value proposition here? Is this bag worth your hard earned currency? Currently, Langly has the Simple Bag listed at $125, not a bad price at all considering what other bags of a similar quality cost in this industry. But that is not the whole story.
That $125 only gets you the Simple Bag, not the Simple Insert. If you want the insert (which you do if you want to carry your camera and lenses in this bag), then you will need to fork over another $45 for the Simple Insert. This brings your total to $170, again, not an unheard of price for a high-quality bag in this industry, but still more than an impulse buy.
I wish that Langly offered a combo pack with both the bag and the insert included for a single price. Sure, you can technically buy both at the same time and do it that way. But selling them separately just creates a chance for someone to not get what they were expecting, and that is never a good thing.
Overall, I am happy with the value proposition for this bag considering the competition out there. For that reason, a solid 3 out of 5 stars in this category.
Overall, I am really impressed with what Langly did here with their Simple Bag and Simple Insert. It is a slightly different direction from their other bag lines, and they did so while continuing to stick to their superb quality and design standards.
As I mentioned above, the Simple Bag and Simple Insert are now on sale, and you can grab them yourself over at Langly.co.