It's a difficult task to choose which of man's creations is the most beautiful. It could be a building like the Guggenheim, a painting by Van Gogh, or perhaps, even the nose of a Victoria's Secret Model. Once I saw morning rise on Trafalgar Square in London, half hidden in mist, and thought, well, that may be the most beautiful thing I'd ever seen. But then I thought of the spectacular sight of an F-14 Tomcat taking off in full reheat at dusk, and I've seen photoshopped supermodels in next to nothing who weren't as beautiful as a Riva Aquarama.

The choices are bountiful. It's much the same with nature: a romantic Blue Lagoon in Jamaica, a desolate Dartmoor dotted with wild ponies, but for many, nothing compares to the otherworldly sights of Earth, from space. It's the stars and mountains, darkness alive with Northern Lights, and serenity in the midst of an utterly hostile environment. Most will never see this from space, but it may be the views are actually better from home. Thanks to photographers like Paul Zizka, who brave the harsher environments our planet has on tap, we are brought to places we may never go, and see beauty in nature you never knew was here.

Zizka, hailing from Banff, Alberta, arguably home to Canada's finest views, is a professional mountain landscape and adventure photographer. He finds speciality in shooting in harsh conditions, and even harder to reach places. It may go hand in hand with the territory, but Paul has a great passion for the outdoors, pushing boundaries with backcountry experiences and photographing alpine sports. But, he particularly finds joy in the challenges of photographing these areas at night, and the effects unique to a northern dark sky – the Northern Lights, bright stars, and an ethereal glow to landscapes.
I believe there is, in all human beings, a deep connection with the natural environment. In these times, however, that link is often obscured by the capitalistic, hectic, materialistic and anthropocentric nature of our societies. My hope is that through my photography, people will rediscover the precious connection they can have with the wonders of our planet.
[REWIND: World's Largest Cave Photos Prove Nature Is Still Shocking]
He has also taken to including himself in some of the photos, granting us a sense of scale, and human connection. Simply arriving at these locations and snapping a photo won't garner the type of recognition Paul has had from publications like IMPACT, Canadian Geographic, Alpinist, and now to have a signature collection used by Banff Lake Louise Tourism to promote the famous park worldwide. One could say it's his artistic take which separates his work from other nature photographers.
Thoughts
Star Trails are just the beginning, but this is better seen than explained and we invite you to have a look at some more of Paul's work he has graciously shared with us, below. His adventures have spanned unsupported double crossing of Iceland on foot, believed to be the first of its kind, and backpacking Pacific nations, and Baffin Island to name a few. You will also find part of his gear list and links to his highly detailed site with much more of his work, and his publications.
Gear List
Canon 5D Mark III
One of the best quality/weight ratios out there for backcountry purposes, in my opinion. The Mk III also allows me to record the odd video, and performs great at high ISO for those trips where I would rather leave the tripod at home.
Lenses:
Canon 17-40mm f/4L
Canon 70-200mm f/2.8L IS
Canon 14mm f/2.8 L
Canon 24mm f/1.4L II
Canon 17-40mm f/4L
Sigma 15mm f/2.8 Fisheye
Think Tank Skin belt and holster (800 g)
This is the lightest way I know of to keep the gear available at all times. This system is fully customizable and does not get in the way of climbing or skiing.
We highly recommend heading over to Paul's site for lots of information, insights, and more photos form this brilliant adventure photographer.
CREDITS: All photographs shared by Paul Zizka are copyrighted and have been used with permission for SLR Lounge. Do not copy, modify or re-post this article or images without express permission from SLR Lounge and the artist.
Be sure to check us out on Google+.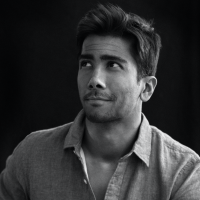 Kishore Sawh
A photographer and writer based in Miami, he can often be found at dog parks, and airports in London and Toronto. He is also a tremendous fan of flossing and the happiest guy around when the company's good.