Amongst the many needs a photographer has, storage is one of the most vital. First, you invest in the right gear, computers and software to create the highest quality images. You also invest the time in marketing to and meeting with clients. All of this money and effort can be wasted if you can't protect your images. Good storage solutions are vital to our work. Fortunately, LaCie has positioned itself to constantly meet the varying demands of their market. The result is their hard-drives are reliable, durable, portable, and fast. With the CES announcements of the of the LaCie Rugged USB-C portable drive and d2 Thunderbolt 3 , they have also ensured to make it backwards compatible. Here are some of the specs of the latest offerings.
LaCie Rugged USB-C pricing starts at $249.
Max Capacity
2TB, 4TB and 5TB HDD
500 GB and 1TB (SSD)
Transfer Rate
510MB/s (SSD)
130MB/s (HDD)
Interface
1 × Thunderbolt (integrated) compatible with 1st Gen thunderbolt and Thunderbolt 2
1 × USB-C (Thunderbolt 3 and USB 3.0 compatible)
Now the LaCie d2 Thunderbolt 3 allows you to beef up your bandwidth to meet the demands of your more intensive workflows and speed up the transfer of files from SD cards to Lightroom. As a Lightroom user, I'll take all the speed I can get. It also acts a power charger through the USB-C port.
LaCie d2 Thunderbolt pricing starts at $429.
Capacity
6TB, 8TB and 10TB
Transfer Rate
Up to 240MB/s
Compatibility
Thunderbolt 3
Thunderbolt
Thunderbolt 2
USB-C
USB 3.0
As technology advances, we often find ourselves forced to progress with it or risk being left behind. Brands that are thoughtful enough bridge the gap between where their customers are and where their technology is going are brands that generate loyalty. LaCie is not only offering good products, but demonstrating good customer service.
Both of these of the hard drives with be available in the first quarter of 2017.
Official Press Release Text:
Sydney, Australia – January 5, 2017 – LaCie, the premium brand from Seagate Technology plc (NASDAQ: STX), today announced at the Consumer Electronics Show significant updates to its legendary LaCie® Rugged® and d2 storage solutions. Photographers, videographers and musicians from around the globe have trusted these products for more than a decade to help them capture, edit and deliver their creative work. New technologies let users film and photograph at unprecedented resolutions, requiring more efficient ways to manage the exponential increases in data. To address this challenge, LaCie, with design by Neil Poulton, has engineered its next generation of storage solutions with more speed, higher capacity and better compatibility—and best-in-class reliability.
LACIE RUGGED THUNDERBOLT USB-C
First, the new LaCie Rugged Thunderbolt™ USB-C combines iconic Rugged toughness with USB-C compatibility and fast Thunderbolt speeds. Users can store even more footage, and so carry fewer devices, thanks to the industry-leading mobile HDD capacity up to 5TB. The LaCie Rugged features Seagate® BarraCuda® drives for best-in-class reliability and performance. In addition, the 1TB SSD version delivers speeds of up to 510MB/s1, a 30 percent increase over the previous SSD generation. With these speeds, creative professionals can transfer 100GB of content in about three minutes and enjoy more responsive photo library browsing in Adobe® Lightroom®.
Thanks to USB-C, the user can connect the LaCie Rugged drive to USB 3.0-compatible computers as well as to USB-C and Thunderbolt 3 models. Plus, with an integrated Thunderbolt cable featuring compatibility with first-generation Thunderbolt and Thunderbolt 2, this LaCie Rugged drive can be used with more types of computers than any other storage solution on the market. Shock, dust, and water resistance means the LaCie Rugged drive is up for any adventure—from treks on Mount Everest to being overnighted across the country. The LaCie Rugged drive is also bus-powered for complete mobility and is backed by a three-year limited warranty.
LACIE d2 THUNDERBOLT 3
Next, the new LaCie d2 Thunderbolt 3 is a great companion to limited-capacity SSD-based laptops and all-in-one computers to expand storage up to 10TB for professional bandwidth-intensive creative applications. Featuring Thunderbolt 3 and USB 3.1 speeds through the USB-C port, the new LaCie d2 drive performs great on late-model laptops such as the new MacBook Pro®—as well as on USB 3.0 computers. With industry-best capacities of up to 10TB the LaCie d2 drive can easily store large photo and video projects. It features a Seagate BarraCuda Pro 7200RPM hard disk drive for industry-leading performance and reliability.
Featuring speeds of up to 240MB/s1, a ten percent improvement over the previous generation, photographers can spend less time moving files from camera cards into Adobe Lightroom. Dual Thunderbolt 3 ports mean the user can daisy chain dual 4K displays, a single 5K display or up to six total LaCie d2 drives—all through a single cable connected to their computer. It's even possible to power a compatible laptop2 such the latest MacBook Pro® through a USB-C port. That's one less cable cluttering up the desktop. The LaCie d2 is also backed by a five-year limited warranty, the most generous in the industry.
AVAILABILITY
The new LaCie Rugged drive will come in 2TB, 4TB and 5TB HDD and 500GB and 1TB SSD capacities. The new LaCie d2 drive will come in 6TB, 8TB and 10TB capacities.
About LaCie
LaCie, the premium brand from Seagate Technology, designs world-class external storage products for Apple and PC users. LaCie differentiates itself with sleek design and unmatched technical performance. Find out more at www.lacie.com.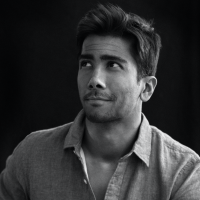 Kishore Sawh
A photographer and writer based in Miami, he can often be found at dog parks, and airports in London and Toronto. He is also a tremendous fan of flossing and the happiest guy around when the company's good.