Have we seen the last of the print portfolios? I hope not, and really we haven't, but as with all things digital we can't escape the flexibility, convenience, and cost advantages that come with digital medium portfolios. And that was already the case 5 years ago, before we had the invention of the iPad and proliferation of like products. Now it's just hard to resist when we have beautiful, tactile, brightness adjustable, zoom capable devices on which to showcase the work.
Digital portfolios are also perpetually adjustable and easy to update, so you can change with the trends, the year, the season and even with the client. If you're a fashion or beauty photographer and you're presenting your work to agency A in Miami, you can adjust your portfolio to suit the market they serve, by a slight design change, or omitting or including certain models. You could be in Delhi the day after and with a few clicks adjust it for something more appropriate for agency B in that location. Print doesn't allow you to do that – well, not really.
But with the development of these technologies, comes the burden of choice. Part of the idea and appeal of the digital portfolio is ease and simplicity, but the choices can be complicated. So to add to your complication here is another option: Kredo.
Kredo is an iPad app from the Toronto based portfolio service 4ormat, and like it's primary brother, it's clean, and beautiful, and quite simple to use. I've been a 4ormat user for quite a while now, and I've always liked how their portfolios tend to unfold under a mouse point, so Kredo should do well under the point of your finger.
It allows for a collection of images to be sorted into portfolios and displayed in a manner and look reminiscent of a Belgian design house – clean, minimalistic. Like Belgium, the technical experience is something you won't notice, just enjoy. Your ability to create is made easier and supported by the ability to add images via your 4ormat portoflio, Dropbox, or iPhoto library.
You can also share your portfolio with others via any device simply by sharing a password, and even via Facebook, email, or Twitter, or via the Kredo network. If it's anything like Exposure.co which I recently reviewed, this may be one of the best features. You can search the whole network by specific criteria, which makes it a suitable place to discover like-minds, like-shooters, and find inspiration. It's also a good place to be discovered, and as such, the quality of the work is probably going to be of a higher standard, which is always a good thing.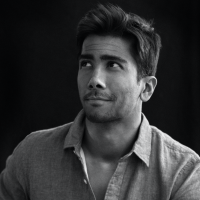 Kishore Sawh
A photographer and writer based in Miami, he can often be found at dog parks, and airports in London and Toronto. He is also a tremendous fan of flossing and the happiest guy around when the company's good.