Welcome to Time Out with Tanya, where I've put my fast paced graphic design career on hold in favor of adventures in motherhood. I'm capturing every moment on camera and you can come along, if you'd like. Sign up for my weekly email here so you'll never miss a Time Out.
In my interview today with Kellie Penn, she shares her "practically overnight success story" and how she learned to find balance and a specialty in her portrait photography business. She shares some incredibly insightful advice, so you'll want to read every word…
Hi Kellie! Tell me about yourself and your business.

I began my photography business, Across the Miles Photography, in the Spring of 2008 and have been completely amazed at how this little dream of mine has blossomed into something truly wonderful. I began out of my home in Decatur, IL & then branched out and joined forces with another photographer and opened up a studio in Argenta, IL. I spent my days documenting babies, children, seniors and families and spent my weekends documenting the marriages of couples that I just adore.
Two years ago, my husband's job changed and we moved to Champaign, IL. I decided at that point to make the shift to primarily documenting weddings and still photograph a limited number of families as well. The shift to specializing has helped me find some balance between my role as a photographer and my role as a mother/wife.
Besides my role as a full-time wedding and family photographer, I'm also a pastor's wife, and mommy to four beautiful children. My days are spent editing, filling up juice cups, watching endless amount of Disney, volunteering at school, spending time with international students and eating cupcakes with brides. I am passionate about capturing life, preserving memories and am so thankful that photography allows me that opportunity.
After losing my mother to cancer when I was 14 years old, and after having my 3 month old son pass away from complications of prematurity, I truly understand the importance of photography. These portraits are proof of life. They tell our stories. The thought of future generations looking at portraits that I have taken just leaves me humbled. I am so grateful to be able to do this job that I love with every fiber of my being.
I'm so sorry for your losses. What an incredible perspective to have as a photographer. Tell me about your journey to becoming a photographer.
I was heavily involved in the digital scrapbooking community from 2006-2009. I was on creative teams for different scrapbooking designers and they would use my work for marketing. It was great…I received free scrapbooking goodies & they featured my work. I started receiving a lot of encouragement from different people on my teams to pursue photography. I just laughed and thought that there was no way I'd be able to make it in the photography industry.
I have my degree in elementary education & always thought I'd be a kindergarten teacher forever. At the time, I was staying at home with my kids & learned more and more about Photoshop while creating these scrapbooking layouts. One day, I won a free custom website online & thought I'd go ahead and launch my business and just see what happens. After the website launched, my business just took off like wildfire. My goal was to make enough to make a car payment, but in the end, this has been so much more. It has provided an extra income with flexibility in our schedule and I couldn't be more thankful!
I'm self taught but have learned a TON through websites like ClickinMoms. I'm a researcher by nature and have spent endless hours researching online the way to run a photography business & how to take better photos.
What's in your camera bag?
Bodies:
Canon 5d Mark III
Canon 5d Mark II
Lenses:
Canon 35mm f/1.4 L
Canon 50mm f/1.2 L
Canon 85mm f/1.2 L II
Canon 70-200mm F2.8L Mark I
Canon 24-70mm f/2.8L Mark I
Canon 100mm macro
Other Gear:
2 Canon Speedlites (600-ex-rt)
ST-E3-RT Tramsmitter for Speedlites
A Ton of CF & SD cards
Camera bags–Ketti Bag, Pelican Case, Undfind Bag
Wow! That's a lot. Is there anything you wish was in your camera bag?
Of course!! I'd love the newer versions of the 70-200 (Canon 70-200 f/2.8L Mark II) and the 24-70 (Canon 24-70mm f/2.8L Mark II). I'd also love to upgrade my 100mm macro to the L version and add the 125mm lens to my bag. BUT…it will be awhile before any of that happens.

What's the biggest challenge you have faced as a photographer and how have you overcome it? Or are you still working through it?
Balance. This business grew at a rate I never expected and I found myself drowning. I'd stay up way too late, lay in bed and cry and was so overwhelmed. My eye started twitching and I went to the optometrist to find out what was wrong. My doctor told me "You have got to make some changes. You are stressed and you're not taking care of yourself. Take breaks from the computer and breaks from life. Your photography business isn't the only thing that defines you."
Yep. I got a big kick in the pants from my eye doctor. I started making the decision to go to the Y and workout during the week. I started going to bed at a normal time and started shutting my computer off during the evenings. I also started cutting out sessions and put my focus on my wedding business. Specializing was a great decision for me and for my family. I'm happier, my twitch has gone away and I've learned to say "no" when I can't add more to my plate.
How did you become involved with Clickin Moms?
I found out about ClickinMoms back in 2008 from a fellow digital scrapbooker. There weren't very many of us on ClickinMoms at that time and it's AMAZING to see how it has shaped into the photography community that it is now. I always say that I owe so much of my growth to Clickin Moms. I was challenged by various photographers on there and my photographs grew as a result. I was thrilled when they created CMPro and love being a part of that community. I have met some of my best friends through Clickin Moms.
What courses will you be teaching at Click Away and what can attendants expect from your classes?
I am so excited about Click Away!
I am leading a Wedding Day Posing Photo Walk where I will demonstrate the way I pose people on a wedding day (couples, families, and wedding party) using photo walk participants. You will see how I set up poses and will assist others with their own posing. I will also share secrets that wedding photographers wish their second shooters knew during the photo walk.
I'm also leading an outdoor Bridal Posing Shooting bay. I will show how to pose a bride and flower girl on a wedding day to create gorgeous, flattering images that the bride will love. You'll learn tips to make the bride feel beautiful, how to find the best light, and how to quickly take portraits when you are under a time crunch on a wedding day. Also, we will focus on the smallest member of the wedding party…the flower girl! We will create portraits of the flower girl and bride together, and portraits of the flower girl alone. You'll walk away with several new posing tools in your pocket that you'll be able to use at the next wedding you photograph.
Finally, I'm leading a Head Shot Exchange Photo Walk. You know what they say about the carpenter's house is always the one that needs fixed? Well, the same can be true for photographers and taking the time to get their own portraits taken! Join us for a headshot swap photo walk & get some updated headshots. (So you can finally quit using your high school yearbook photo!)
Anything else you want to share with the photographic community?
When photographing others, just remember that these images will be a part of their legacies. One day, future children & grandchildren will look at these images and will see just how much these people were loved and cherished. We all face burn out and are exhausted at times…but when showing up at a session, just remember the importance of what we do. What we do matters.
I'm signed up to join Kellie's head shot exchange photo walk, which I desperately need. What a great idea, right? Her wedding photography photo walk sounds awesome, too. If you can't attend ClickAway, but need some help with posing couples, consider checking out the SLR Lounge Natural Light Couples Workshop.
You can also connect with Kellie on Facebook or Instagram. I'm adding her to my list of photographers to follow. See my top ten list here: TANYA'S TOP 10 PHOTOGRAPHERS TO FOLLOW ON FACEBOOK
CREDITS: Photographs by Kellie Penn are copyrighted and have been used with permission for SLR Lounge. Do not copy, modify or re-post this article or images without express permission from SLR Lounge and the artist.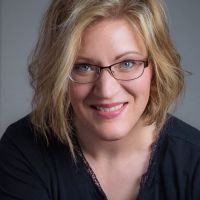 Tanya Goodall Smith
Tanya is the owner of WorkStory Branding Photography in Spokane, WA. Businesses hire her to create story-telling content that sells their high end products and services. She also teachings photographers her unique business model for making serious money as a corporate and personal branding photographer. Find her at
workstoryphotography.com
and
workstoryeducation.com