The internet has become a maelstrom of opinions – sometimes reminding us of the beauty that life has to offer through inspiring viral videos while simultaneously breeding bullies through negative comments. There is a certain vulnerability that we've all felt posting our work for the world to see, and sometimes constructive criticism is a bitter pill to swallow.
Instagram has become the place to share and receive feedback and has therefore engaged a viscous cycle of bullying, bashing, and unwarranted negativity, however, IG hopes to change that with a couple of new updated features.
Encouraging positivity
A feature that is way over-due and maybe just what the world needs right now – a little love. Users can now 'like' comments made by others in an effort to "show support and encourage positivity throughout the community" by pressing the small heart on the right side of the comment section. This is also great for photographers looking to engage with their followers in a new way. While this won't drive the haters or unkind cyber-monsters away, it's a bold stance for IG to take in the face of a common problem plaguing society as a a whole and a dutiful reminder that we are the ones that inflict change.
And in the case that negative comments seem to follow you wherever you turn, Instagram has added the ability to disable comments completely and let images stand on their own. Now, this may give you varied results in terms of number of likes, but if the image is meant for a solo-performance then try it out and see if it's worth it to reduce the clutter and keep the naysayers away while you're at it.
community Comes first
Cyber-bullying is so commonly overlooked and has, unfortunately, become so commonplace, especially for younger generation teens growing up through the rise of social media. IG hopes to prevent users from turning a blind eye and instead help those in need of support:
If you believe that someone you care about may be thinking about injuring themselves, you can report it anonymously, and we will connect your friend to organizations that offer help. We have teams working 24 hours a day, seven days a week, around the world to review these reports.
This is all just one small step in the right direction to help remedy a very concerning discomfort that surrounds social media. Do your part in spreading positivity and giving constructive critique for those asking for it, for kindness is a gift we can always give.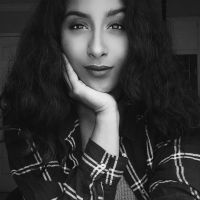 Shivani Reddy
Shivani wants to live in a world where laughter is the cure to pretty much everything. Since she can't claim "Serial Bingewatcher" as an occupation, she'll settle for wedding/portrait photographer at Lin and Jirsa & marketing coordinator here at SLR Lounge. For those rare moments when you won't find a camera in her hand, she will be dancing, eating a donut, or most likely watching Seinfeld. Follow her on Instagram:
@shivalry_inc